The gentleman
12th July 2012
Page 14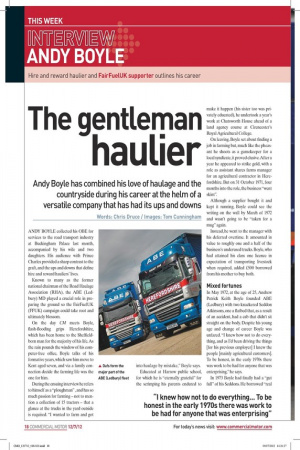 Page 16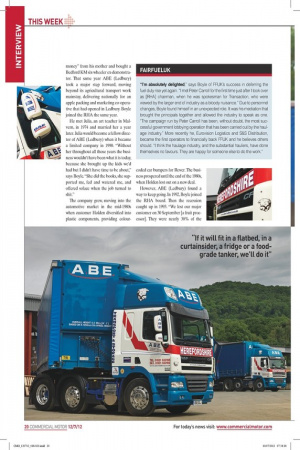 Page 17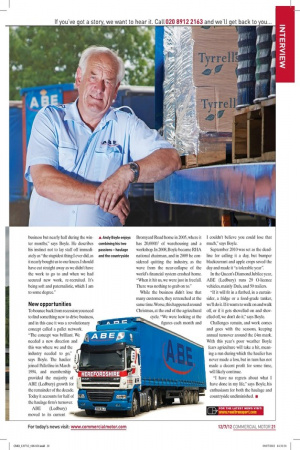 Page 14, 12th July 2012 —
The gentleman
Close
haulier
Andy Boyle has combined his love of haulage and the countryside during his career at the helm of a versatile company that has had its ups and downs
Words: Chris Druce / Images: Tom Cunningham
ANDY BOYLE collected his OBE for services to the road transport industry at Buckingham Palace last month, accompanied by his wife and two daughters. His audience with Prince Charles provided a sharp contrast to the graft, and the ups and downs that define hire and reward hauliers' lives.
Known to many as the former national chairman of the Road Haulage Association (RHA), the ABE (Ledbury) MD played a crucial role in preparing the ground so the FairFuelUK (FFUK) campaign could take root and ultimately blossom.
On the day CM meets Boyle, flash-flooding grips Herefordshire, which has been home to the Sheffieldborn man for the majority of his life. As the rain pounds the window of his computer-free office, Boyle talks of his formative years, which saw him move to Kent aged seven, and via a family connection decide the farming life was the one for him.
During the ensuing interview he refers to himself as a "ploughman" , and has so much passion for farming – not to mention a collection of 15 tractors – that a glance at the trucks in the yard outside is required. "I wanted to farm and got into haulage by mistake," Boyle says. Educated at Harrow public school, for which he is "eternally grateful" for the scrimping his parents endured to make it happen (his sister too was privately educated), he undertook a year's work at Chatsworth House ahead of a land agency course at Cirencester's Royal Agricultural College.
On leaving, Boyle set about finding a job in farming but, much like the pheasant he shoots as a gamekeeper for a local syndicate, it proved elusive. After a year he appeared to strike gold, with a role as assistant shares farms manager for an agricultural contractor in Herefordshire. But on 31 October 1971, four months into the role, the business "went skint".
Although a supplier bought it and kept it running, Boyle could see the writing on the wall by March of 1972 and wasn't going to be "taken for a mug" again.
Instead, he went to the manager with his deferred overtime. It amounted in value to roughly one and a half of the business's underused trucks. Boyle, who had attained his class one licence in expectation of transporting livestock when required, added £500 borrowed from his mother to buy both.
Mixed fortunes
In May 1972, at the age of 25, Andrew Patrick Keith Boyle founded ABE (Ledbury) with two knackered Seddon Atkinsons, one a flatbed that, as a result of an accident, had a cab that didn't sit straight on the body. Despite his young age and change of career Boyle was unfazed. "I knew how not to do everything, and as I'd been driving the things [for his previous employer] I knew the people [mainly agricultural customers]. To be honest, in the early 1970s there was work to be had for anyone that was enterprising," he says.
In 1973 Boyle had finally had a "gut full" of his Seddons. He borrowed "real money" from his mother and bought a Bedford KM six-wheeler ex-demonstrator. That same year ABE (Ledbury) took a major step forward, moving beyond its agricultural transport work mainstay, delivering nationally for an apple packing and marketing co-operative that had opened in Ledbury. Boyle joined the RHA the same year.
He met Julia, an art teacher in Malvern, in 1974 and married her a year later. Julia would become a fellow director of ABE (Ledbury) when it became a limited company in 1990. "Without her throughout all those years the business wouldn't have been what it is today, because she brought up the kids we'd had but I didn't have time to be about," says Boyle. "She did the books, she supported me, fed and watered me, and offered solace when the job turned to shit." The company grew, moving into the automotive market in the mid-1980s when customer Holden diversified into plastic components, providing colour coded car bumpers for Rover. The business prospered until the end of the 1980s, when Holden lost out on a new deal.
However, ABE (Ledbury) found a way to keep going. In 1992, Boyle joined the RHA board. Then the recession caught up in 1993. "We lost our major customer on 30 September [a fruit processor]. They were nearly 30% of the business but nearly half during the winter months," says Boyle. He describes his instinct not to lay staff off immediately as "the stupidest thing I ever did, as it nearly bought us to our knees. I should have cut straight away as we didn't have the work to go to and when we had secured new work, re-recruited. It's being soft and paternalistic, which I am to some degree."
New opportunities
To bounce back from recession you need to find something new to drive business, and in this case it was a revolutionary concept called a pallet network.
"The concept was brilliant. We needed a new direction and this was where we and the industry needed to go," says Boyle. The haulier joined Palletline in March 1994, and membership provided the majority of ABE (Ledbury) growth for the remainder of the decade.
Today it accounts for half of the haulage firm's turnover.
ABE (Ledbury) moved to its current Bromyard Road home in 2005, where it has 20,000ft2 of warehousing and a workshop. In 2008, Boyle became RHA national chairman, and in 2009 he considered quitting the industry, as the wave from the near-collapse of the world's financial system crashed home. "When it hit us, we were just in freefall. There was nothing to grab on to." While the business didn't lose that many customers, they retrenched at the same time. Worse, this happened around Christmas, at the end of the agricultural cycle. "We were looking at the figures each month and I couldn't believe you could lose that much," says Boyle.
September 2010 was set as the deadline for calling it a day, but bumper blackcurrant and apple crops saved the day and made it "a tolerable year".
In the Queen's Diamond Jubilee year, ABE (Ledbury) runs 29 O-licence vehicles, mainly Dafs, and 50 trailers.
"If it will fit in a flatbed, in a curtainsider, a fridge or a food-grade tanker, we'll do it. If it wants to walk on and walk off, or if it gets shovelled on and shovelled off, we don't do it," says Boyle. Challenges remain, and work comes and goes with the seasons, keeping annual turnover around the £4m mark. With this year's poor weather Boyle fears agriculture will take a hit, meaning a run during which the haulier has never made a loss, but in turn has not made a decent profit for some time, will likely continue.
"I have no regrets about what I have done in my life," says Boyle, his enthusiasm for both the haulage and countryside undiminished. n
FAIRFUELUK
"I'm absolutely delighted," says Boyle of FFUK's success in deferring the fuel duty rise yet again. "I met Peter Carroll for the first time just after I took over as [RHA] chairman, when he was spokesman for Transaction, who were viewed by the larger end of industry as a bloody nuisance." Due to personnel changes, Boyle found himself in an unexpected role. It was his mediation that brought the principals together and allowed the industry to speak as one. "The campaign run by Peter Carroll has been, without doubt, the most successful government lobbying operation that has been carried out by the haulage industry." More recently he, Eurovision Logistics and S&S Distribution, became the first operators to financially back FFUK and he believes others should. "I think the haulage industry, and the substantial hauliers, have done themselves no favours. They are happy for someone else to do the work."