Tell it like it is
12th July 2012
Page 12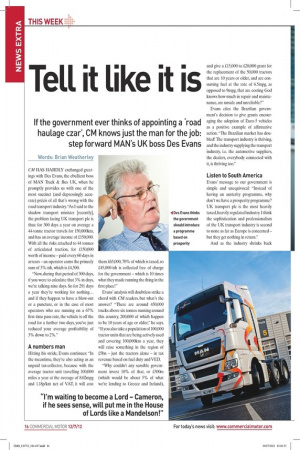 Page 13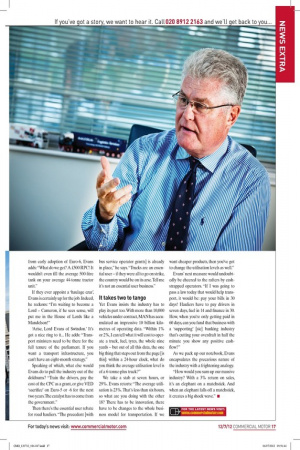 Page 12, 12th July 2012 —
Tell it like it is
Close
If the government ever thinks of appointing a 'road haulage czar', CM knows just the man for the job: step forward MAN's UK boss Des Evans
Words: Brian Weatherley
CM HAS HARDLY exchanged greetings with Des Evans, the ebullient boss of MAN Truck & Bus UK, when he promptly provides us with one of the most succinct (and depressingly accurate) précis of all that's wrong with the road transport industry. "As I said to the shadow transport minister [recently], the problem facing UK transport plc is thus: for 300 days a year on average a 44-tonne tractor travels for 150,000km, and has an average income of £150,000. With all the risks attached to 44 tonnes of articulated traction, for £150,000 worth of income – paid every 60 days in arrears – an operator earns the princely sum of 3%-ish, which is £4,500.
"Now, during that period of 300 days, if you were to calculate that 3% in days, we're talking nine days. So for 291 days a year they're working for nothing... and if they happen to have a blow-out or a puncture, or in the case of most operators who are running on a 67% first-time pass-rate, the vehicle is off the road for a further two days, you've just reduced your average profitability of 3% down to 2%."
A numbers man
Hitting his stride, Evans continues: "In the meantime, they're also acting as an unpaid tax-collector, because with the average tractor unit travelling 100,000 miles a year at the average of 8.02mpg and 1.18p/km net of VAT, it will cost them £65,000, 70% of which is taxed, so £45,000-ish is collected free of charge for the government – which is 10 times what they made running the thing in the first place!" Evans' analysis will doubtless strike a chord with CM readers, but what's the answer? "There are around 450,000 trucks above six tonnes running around this country, 200,000 of which happen to be 10 years of age or older," he says. "If you also take a population of 100,000 tractor units that are being actively used and covering 100,000km a year, they will raise something in the region of £5bn – just the tractors alone – in tax revenue based on fuel duty and VED.
"Why couldn't any sensible government invest 10% of that, or £500m (which would be about 5% of what we're lending to Greece and Ireland), and give a £15,000 to £20,000 grant for the replacement of the 50,000 tractors that are 10 years or older, and are consuming fuel at the rate of 6.5mpg, as opposed to 9mpg, that are costing God knows how much in repair and maintenance, are unsafe and unreliable?" Evans cites the Brazilian government's decision to give grants encouraging the adoption of Euro-5 vehicles as a positive example of affirmative action. "The Brazilian market has doubled! The transport industry is thriving, and the industry supplying the transport industry, i.e. the automotive suppliers, the dealers, everybody connected with it, is thriving too."
Listen to South America
Evans' message to our government is simple and unequivocal: "Instead of having an austerity programme, why don't we have a prosperity programme? UK transport plc is the most heavily taxed, heavily regulated industry. I think the sophistication and professionalism of the UK transport industry is second to none as far as Europe is concerned – but they get nothing in return." And as the industry shrinks back from early adoption of Euro-6, Evans adds: "What do we get? A £500 RPC! It wouldn't even fill the average 500-litre tank on your average 44-tonne tractor unit." If they ever appoint a 'haulage czar', Evans is certainly up for the job. Indeed, he reckons: "I'm waiting to become a Lord – Cameron, if he sees sense, will put me in the House of Lords like a Mandelson!" 'Arise, Lord Evans of Swindon.' It's got a nice ring to it... He adds: "Transport ministers need to be there for the full tenure of the parliament. If you want a transport infrastructure, you can't have an eight-month strategy." Speaking of which, what else would Evans do to pull the industry out of the doldrums? "Train the drivers, pay the cost of the CPC as a grant, or give VED 'sacrifice' on Euro-5 or -6 for the next two years. The catalyst has to come from the government." Then there's the essential user rebate for road hauliers. "The precedent [with bus service operator grants] is already in place," he says. "Trucks are an essential user – if they were all to go on strike, the country would be on its arse. Tell me it's not an essential user business."
It takes two to tango
Yet Evans insists the industry has to play its part too. With more than 10,000 vehicles under contract, MAN has accumulated an impressive 10 billion kilometres of operating data. "Within 1% or 2%, I can tell what it will cost to operate a truck, fuel, tyres, the whole nine yards – but out of all this data, the one big thing that steps out from the page [is this]: within a 24-hour clock, what do you think the average utilisation level is of a 6-tonne-plus truck?" We take a stab at seven hours, or 29%. Evans retorts: "The average utilisation is 23%. That's less than six hours, so what are you doing with the other 18? There has to be innovation, there have to be changes to the whole business model for transportation. If we want cheaper products, then you've got to change the utilisation levels as well." Evans' next measure would undoubtedly be cheered to the rafters by cashstrapped operators. "If I was going to pass a law today that would help transport, it would be: pay your bills in 30 days! Hauliers have to pay drivers in seven days, fuel in 14 and finance in 30. How, when you're only getting paid in 60 days, can you fund that business with a 'supporting' [sic] banking industry that's cutting your overdraft in half the minute you show any positive cashflow?" As we pack up our notebook, Evans encapsulates the precarious nature of the industry with a frightening analogy.
"How would you sum up our massive industry? With a 3% return on sales, it's an elephant on a matchstick. And when an elephant falls off a matchstick, it creates a big shock wave." ■