Offensive play
12th July 2012
Page 10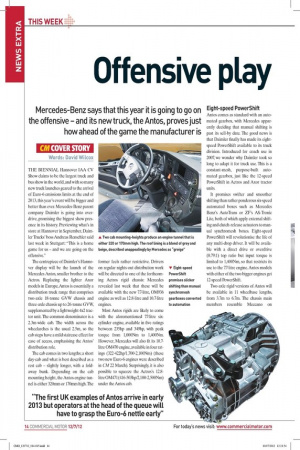 Page 11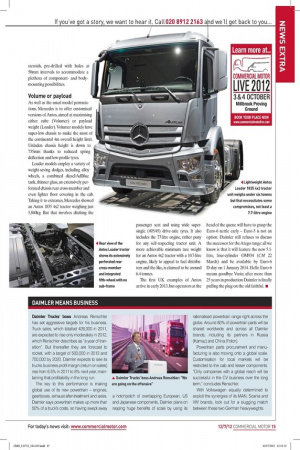 Page 10, 12th July 2012 —
Offensive play
Close
Mercedes-Benz says that this year it is going to go on the offensive – and its new truck, the Antos, proves just how ahead of the game the manufacturer is
Words: David Wilcox
THE BIENNIAL Hannover IAA CV Show claims to be the largest truck and bus show in the world, and with so many new truck launches geared to the arrival of Euro-6 emissions limits at the end of 2013, this year's event will be bigger and better than ever. Mercedes-Benz parent company Daimler is going into overdrive, promising the biggest show presence in its history. Previewing what's in store at Hannover in September, Daimler Trucks' boss Andreas Renschler said last week in Stuttgart: "This is a home game for us – and we are going on the offensive." The centrepiece of Daimler's Hannover display will be the launch of the Mercedes Antos, smaller brother to the Actros. Replacing the lighter Axor models in Europe, Antos is essentially a distribution truck range that comprises two-axle 18-tonne GVW chassis and three-axle chassis up to 26-tonne GVW, supplemented by a lightweight 4x2 tractor unit. The common denominator is a 2.3m-wide cab. The width across the wheelarches is the usual 2.5m, so the cab steps have a mild staircase effect for ease of access, emphasising the Antos' distribution role.
The cab comes in two lengths; a short day-cab and what is best described as a rest cab – slightly longer, with a foldaway bunk. Depending on the cab mounting height, the Antos engine tunnel is either 320mm or 170mm high. The former feels rather restrictive. Drivers on regular nights-out distribution work will be directed to one of the forthcoming Actros rigid chassis: Mercedes revealed last week that these will be available with the new 7.7-litre, OM936 engine as well as 12.8-litre and 10.7-litre engines.
Most Antos rigids are likely to come with the aforementioned 7.7-litre sixcylinder engine, available in five ratings between 235hp and 349hp, with peak torque from 1,000Nm to 1,400Nm. However, Mercedes will also fit its 10.7litre OM470 engine, available in four ratings (322-422hp/1,700-2,100Nm) (these two new Euro-6 engines were described in CM 22 March). Surprisingly, it is also possible to squeeze the Actros's 12.8litre OM471 (416-503hp/2,100-2,500Nm) under the Antos cab.
Eight-speed PowerShift
Antos comes as standard with an automated gearbox, with Mercedes apparently deciding that manual shifting is past its sell-by date. The good news is that Daimler finally has made its eightspeed PowerShift available to its truck division. Introduced for coach use in 2007, we wonder why Daimler took so long to adapt it for truck use. This is a constant-mesh, purpose-built automated gearbox, just like the 12-speed PowerShift in Actros and Axor tractor units.
It promises swifter and smoother shifting than rather ponderous six-speed automated boxes such as Mercedes Benz's AutoTrans or ZF's AS-Tronic Lite, both of which apply external shifting and clutch-release actuators to manual synchromesh boxes. Eight-speed PowerShift will revolutionise the life of any multi-drop driver. It will be available with a direct drive or overdrive (0.79:1) top ratio but input torque is limited to 1,400Nm, so that restricts its use to the 7.7-litre engine. Antos models with either of the two bigger engines get 12-speed PowerShift.
Two-axle rigid versions of Antos will be available in 11 wheelbase lengths, from 3.7m to 6.7m. The chassis main members resemble Meccano on steroids, pre-drilled with holes at 50mm intervals to accommodate a plethora of componentand bodymounting possibilities.
Volume or payload
As well as the usual model permutations, Mercedes is to offer customised versions of Antos, aimed at maximising either cube (Volumer) or payload weight (Loader). Volumer models have super-low chassis to make the most of the continental 4m overall height limit. Unladen chassis height is down to 735mm thanks to reduced spring deflection and low-profile tyres.
Loader models employ a variety of weight-saving dodges, including alloy wheels, a combined diesel/AdBlue tank, thinner glass, an extensively perforated chassis rear cross-member and even lighter floor covering in the cab. Taking it to extremes, Mercedes showed an Antos 1835 4x2 tractor weighing just 5,840kg. But that involves ditching the passenger seat and using wide supersingle (495/45) drive-axle tyres. It also includes the 7.7-litre engine, rather puny for any self-respecting tractor unit. A more achievable minimum tare weight for an Antos 4x2 tractor with a 10.7-litre engine, likely to appeal to fuel distributors and the like, is claimed to be around 6.4 tonnes.
The first UK examples of Antos arrive in early 2013, but operators at the head of the queue will have to grasp the Euro-6 nettle early – Euro-5 is not an option. Daimler still refuses to discuss the successor for the Atego range: all we know is that it will feature the new 5.1litre, four-cylinder OM934 (CM 22 March) and be available by Euro-6 D-day on 1 January 2014. Hello Euro-6 means goodbye Vario; after more than 25 years in production Daimler is finally pulling the plug on the old faithful. ■
DAIMLER MEANS BUSINESS
Daimler Trucks' boss Andreas Renschler has set aggressive targets for his business. Truck sales, which totalled 426,000 in 2011, are expected to rise only moderately in 2012, which Renschler describes as "a year of transition". But thereafter they are forecast to rocket, with a target of 500,000 in 2013 and 700,000 by 2020. Daimler expects to see its trucks business profit margin (return on sales) rise from 6.5% in 2011 to 8% next year, maintaining that profitability in the long run.
The key to this performance is making global use of its new powertrain – engines, gearboxes, exhaust after-treatment and axles. Daimler says powertrain makes up more than 50% of a truck's costs, so having swept away a hotchpotch of overlapping European, US and Japanese components, Daimler plans on reaping huge benefits of scale by using its rationalised powertrain range right across the globe. Around 80% of powertrain parts will be shared worldwide and across all Daimler brands, including its partners in Russia (Kamaz) and China (Foton).
Powertrain parts procurement and manufacturing is also moving onto a global scale. Customisation for local markets will be restricted to the cab and lesser components. "Only companies with a global reach will be successful in the CV business over the long term," concludes Renschler.
With Volkswagen equally determined to exploit the synergies of its MAN, Scania and VW brands, look out for a slugging match between these two German heavyweights.