Q In your reply (CM July 2, to a question asking
12th July 1974
Page 42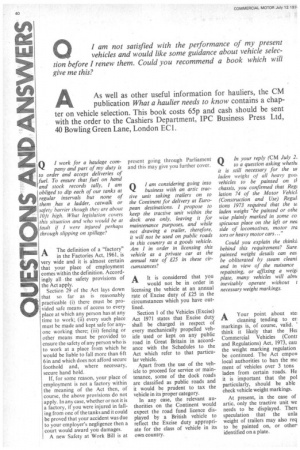 Page 42, 12th July 1974 —
Q In your reply (CM July 2, to a question asking
Close
whetlu it is still necessary for the fit laden weight of all heavy goo, vehicles to be painted on 11 chassis, you confirmed that Regl lation 74 of the Motor Vehict (Construction and Use) Regul tions 1973 required that the a laden weight "be painted or othe wise plainly marked in some co spicuous place on the left or nea side of locomotives, motor tra tors or heavy motorcars.
Could you explain the thinki, behind this requirement? Sure painted weight details can eas be obliterated by steam cleani and in view of the nuisance repainting, or affixing a weigd plate, many vehicles will aim( inevitably operate without t necessary weight markings.
)4, Your point about ste. cleaning tending to er. markings is, of course, valid. ' think it likely that the He Commercial Vehicles (Conti and Regulations) Act, 1973, cau the weight marking regulation be continued. The Act empov local authorities to ban the mo ment of vehicles over 3 tons laden from certain roads. He it is important that the pol particularly, should be able check vehicle weight markings.
At present, in the case of artic, only the tractive unit we needs to be displayed. Therc speculation that the unla weight of trailers may also req to be painted on, or other, identified on a plate.