Q I work for a haulage com pany and part
12th July 1974
Page 42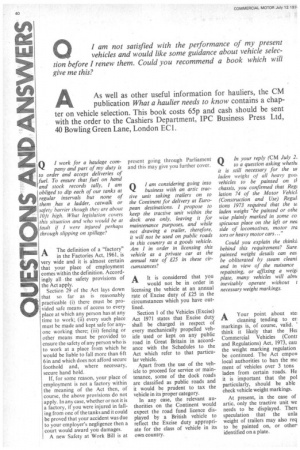 Page 42, 12th July 1974 —
Q I work for a haulage com pany and part
Close
of my duty is to order and accept deliveries of .fuel. To ensure that .fuel on hand and stock records tally, I am obliged to dip each of our tanks at regular intervals but none of them has a ladder, catwalk or safety barrier though they are about lOft high. What legislation covers this situation and who would be at fault if I were injured perhaps through slipping on spillage?
A The definition of a "factory" in the Factories Act, 1961, is very wide and it is almost certain that your place of employment comes within the definition. Accordingly all the safety provisions of the Act apply.
Section 29 of the Act lays down that so far as is reasonably practicable (i) there must be provided safe means of access to every place at which any person has at any time to work; (ii) every such place must be made and kept safe for anyone working there; (iii) fencing or other means must be provided to ensure the safety of any person who is to work at a place from which he would be liable to fall more than 6ft 6 in and which does not afford secure foothold and, where necessary, secure hand hold.
If, for some reason, your place of employment is not a factory within the meaning of the Act then, of course, the above provisions do not apply. In any case, whether or not it is a factory, if you were injured in falling from one of the tanks and it could be proved that your accident was due to your employer's negligence then a court would award you damages.
A new Safety at Work Bill is at present going through Parliament and this may give you further cover.