Q I am considering going into business with an artic
12th July 1974
Page 42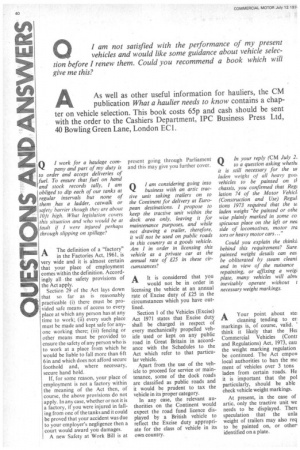 Page 42, 12th July 1974 —
Q I am considering going into business with an artic
Close
tractive unit taking trailers on to the Continent for delivery at European destinations. I propose to keep the tractive unit within the dock area only, leaving it for maintenance purposes, and while not drawing a trailer, therefore, it will not be used on public roads in this country as a goods vehicle. Am I in order in licensing this vehicle as a private car at the annual rate of £25 in these circumstances?
A It is considered that you would not be in order in licensing the vehicle at an annual rate of Excise duty of £25 in the circumstances which you have outlined.
Section I of the Vehicles (Excise) Act 1971 states that Excise duty shall be charged in respect of every mechanically propelled vehicle used or kept on any public road in Great Britain in accordance with the Schedules to the Act which refer to that particular vehicle.
Apart from the use of the vehicle to proceed for service or maintenance, some of the dock roads are classified as public roads and it would be prudent to tax the vehicle in its proper category.
In any case, the relevant authorities on the Continent would expect the road fund licence displayed by a British vehicle to reflect the Excise duty appropriate for the class of vehicle in its own country.