Linispeed: is diversification which is itself diversifying
12th July 1974
Page 39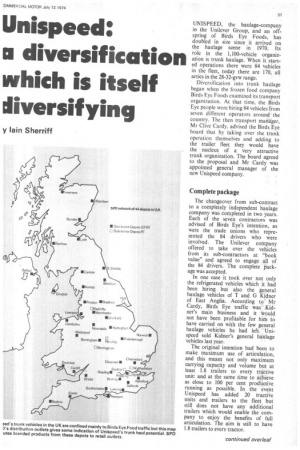 Page 40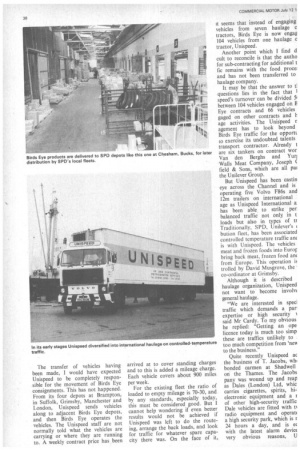 Page 41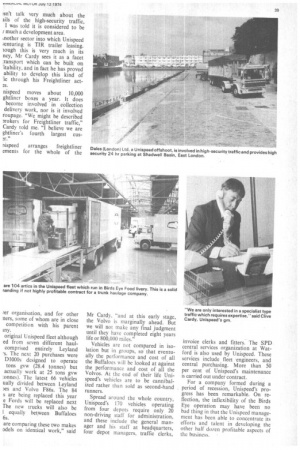 Page 39, 12th July 1974 —
Linispeed: is diversification which is itself diversifying
Close
y lain Sherriff
UNISPEED, the haulage-company in the Unilever Group, and an offspring of Birds Eye Foods, has doubled in size since it arrived on the haulage scene in 1970. Its role in the 1,100-vehicle organization is trunk haulage. When it started operations there were 84 vehicles in the fleet, today there are 170, all artics in the 28-32-gvw range.
Diversification into trunk haulage began when the frozen food company Birds Eye Foods examined its transport organization. At that time, the Birds Eye people were hiring 84 vehicles from seven different operators around the country. The then transport manager, Mr Clive Cardy, advised the Birds Eye board that by taking over the trunk operation themselves and adding to the trailer fleet they would have the nucleus of a very attractive trunk organization. The board agreed to the proposal and Mr Cardy was appointed general manager of the new Unispeed company.
Complete package
The changeover from sub-contract to a completely independent haulage company was completed in two years. Each of the seven contractors was advised of Birds Eye's intention, as were the trade unions who represented the 84 drivers who were involved. The Unilever company offered to take over the vehicles from its sub-contractors at "book value" and agreed to engage all of the 84 drivers. The complete package was accepted.
In one case it took over not only the refrigerated vehicles which it had been hiring but also the general haulage vehicles of T and G Kidner of East Anglia. According to'. Mr Cardy, Birds Eye traffic was Kidner's main business and it Would not have been profitable for him to have carried on with the few general haulage vehicles he had left. Unispeed sold Kidner's general haulage vehicles last year.
The original intention had been to make maximum use of articulation, and this meant not only maximum carrying capacity and volume but at least 1.8 trailers to every tractive unit: and at the same time to achieve as close to 100 per cent productive running as possible. In the event Unispeed has added 20 tractive units and trailers to the fleet but still does not have any additional trailers which would enable the company to enjoy the benefits of full articulation. The aim is still to have 1.8 trailers to every tractor. The transfer of vehicles having been made, I would have expected Unispeed to be completely responsible for the movement of Birds Eye consignments. This has not happened. From its four depots at Brampton, in Suffolk, Grimsby, Manchester and London, Unispeed sends vehicles along to adjacent Birds Eye depots, and then Birds Eye operates the vehicles. The Unispeed staff are not normally told what the vehicles are carrying or where they are running to. A weekly contract price has been arrived at to cover standing charges• and to this is added a mileage charge. Each vehicle covers about 900 miles per week.
For the existing fleet the ratio of loaded to empty mileage is 70-30, and by any standards, especially today, this must be considered good. But I cannot help wondering if even better results would not be achieved if Unispeed was left to do the routeing, arrange the back loads, and look for traffic for whatever spare capacity there was. On the •face of it, It seems that instead of engagirq vehicles from seven haulage tractors, Birds Eye is now enga, 104 vehicles from one haulage I tractor, Unispeed.
Another point which I find c cult to reconcile is that the authc for sub-contracting for additional 1 tic remains with the food proce and has not been transferred to haulage company.
It may be that the answer to t questions lies in the fact that 1 speed's turnover can be divided 51 between 104 vehicles engaged on E Eye contracts and 66 vehicles gaged on other contracts and 11 age activities. The Unispeed r agement has to look beyond Birds Eye traffic for the opportt to exercise its undoubted talents transport contractor. Already t are six tankers on contract wor Van den Berghs and Yuri Walls Meat Company, Joseph ( field & Sons, which are all pal the Unilever Group.
But Unispeed has been castin eye across the Channel and is operating five Volvo F86s and 12m trailers on international age as Unispeed International a has been able. to strike pen? balanced traffic not only in t loads but also in types of it Traditionally, SPD, Unilever's c bution fleet, has been associated controlled temperature traffic an is with Unispeed. The vehicles meat and frozen foods into Euror bring back meat, frozen food an from Europe. This operation is trolled by David Musgrove, the • co-ordinator at Grimsby.
Although it is described haulage organization, Unispeed not want to become involv( general haulage.
"We are interested in speci traffic which demands a par expertise or high security said Mr Candy. To my obvious he replied: "Getting an ope licence today is much too simp these are traffics unlikely to too much competition from 'nem to the business."
Quite recently Unispeed ac the business of T. Jacobs, whi bonded carmen at Shadwell on the Thames. The Jacobs pany was wound up and reap as Dales (London) Ltd, whic carries cigarettes, spirits, hielectronic equipment and a r of other high-security traffic Dale vehicles are fitted with tl radio equipment and operate a high security park, which is r 24 hours a day, and is ec with the latest alarm device very obvious reasons, U m't talk very much about the .ils of the high-security traffic, I was told it is considered to be much a development area.
nother sector into which Unispeed ,enturing is TIR trailer leasing. lough this is very much in its ncy, Mr Cardy sees it as a facet ransport which can be built on itability, and in fact he has proved ability to develop this kind of lc through his Freightliner act
s.
nispeed moves about 10,000 ghtliner boxes a year. It does become involved in collection delivery work, nor is it involved roupage. "We might be described mokers for Freightliner traffic," Cardy told me. "I believe we are ghtliner's fourth largest cus ler organisation, and for other ners, some of whom are in close competition with his parent my.
original Unispeed fleet although ed from seven different haulcomprised entirely Leyland -s. The next 20 purchases were DI000s designed to operate tons gvw (28.4 tonnes) but actually work at 25 tons gvw :onnes). The latest 66 vehicles ually divided between Leyland 3es and Volvo F86s. The 84 s are being replaced this year e Fords will be replaced next The new trucks will also be 1 equally between Buffaloes 6s.
are comparing these two makes odels on identical work," said Mr Cardy, "and at this early stage, the Volvo is marginally ahead. But we will not make any final judgment until they have completed eight years life or 800,000 miles."
Vehicles are not compared in isolation but in groups, so that eventually the performance and cost of all the Buffaloes will be looked at against the performance and cost of all the Volvos. At the end of their life Unispeed's vehicles are to be cannibalized rather than sold as second-hand runners.
Spread around the whole country, Unispeed's 170 vehicles operating from four depots require only 20 non-driving staff for administration, and these include the general manager and his staff at headquarters, four depot managers, traffic clerks, invoice clerks and fitters. The SPD central services organization at Watford is also used by Unispeed. These services include fleet engineers, and central purchasing. More than 50 per cent of Unispeed's maintenance is carried out under contract.
For a company formed during a period of recession, Unispeed's progress has been remarkable. On reflection, the inflexibility of the Birds Eye operation may have been no bad thing in that the Unispeed management has been able to concentrate its efforts and talent in developing the other half dozen profitable aspects of the business.