The punishment of offenders
12th July 1974
Page 34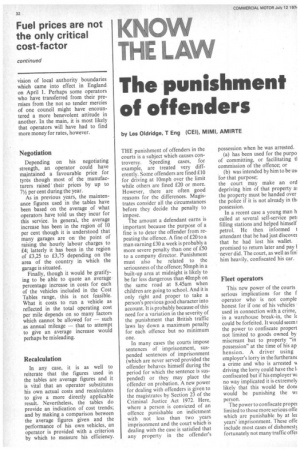 Page 34, 12th July 1974 —
The punishment of offenders
Close
by Les Oldridge, T Eng (CEI), MIMI, AMIRTE THE punishment of offenders in the courts is a subject which causes controversy. Speeding cases, for example, are treated very differently. Some offenders are fined £10 for driving at lOmph over the limit while others are fined £20 or more. However, there are often good reasons for the differences. Magistrates consider all the circumstances before they decide the penalty to impose. The amount a defendant earns is important because the purpose of a fine is to deter the offender from repeating the offence. A fine of £20 to a man earning £30 a week is probably a more severe penalty than one of £50 to a company director. Punishment must also be related to the seriousness of the offence; 50mph in a built-up area at midnight is likely to be far less dangerous than 40mph on the same road at 8.45am when children are going to school. And it is only right and proper to take a person's previous good character into account. It is probably because of this need for a variation in the severity of the punishment that British traffic laws lay down a maximum penalty for each offence but no minimum one.
In many cases the courts impose sentences of imprisonment, suspended sentences of imprisonment (which are never served provided the offender behaves himself during the period for which the sentence is suspended) or they may place the offender on probation. A new power for dealing with offenders is given to the magistrates by Section 23 of the Criminal Justice Act 1972. Here, where a person is convicted of an offence punishable on indictment with not less than two years imprisonment and the court which is dealing with the case is satisfied that any property in the offender's possession when he was arrested.
(a) has been used for the purpo of committing, or facilitating ti commission of the offence; or (b) was intended by him to be usi for that purpose; the court may make an ord depriving him of that property ai the property must be handed over the police if it is not already in till possession.
In a recent case a young man h called at several self-service peti filling stations and helped himself petrol. He then informed 1 attendant that he had just discover that he had lost his wallet. promised to return later and pay I never did. The court, as well as fini him heavily, confiscated his car.
Fleet operators
This new power of the courts serious implications for the f operator who is not comple honest for if one of his vehicles • used in connection with a crime, in a warehouse break-in, the k could be forfeited. It would seemi the power to confiscate propert not limited to goods owned by miscreant but to property "in possession" at the time of his ap hension. A driver using employer's lorry in the furtheranc a crime and who is arrested w driving the lorry could have the confiscated but if his employer Nm no way implicated it is extremely likely that this would be don( would be punishing the wi person.
The power to confiscate propel limited to those more serious offe which are punishable by at le years' imprisonment. These offe include most cases of dishonest3 fortunately not many traffic offer