Peter Ruff
12th July 1974
Page 29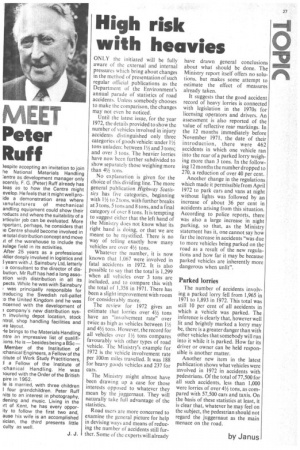 Page 29, 12th July 1974 —
Peter Ruff
Close
)espite accepting an invitation to join he National Materials Handling :entre as development manager only acently, F. G. (Peter) Ruff already has leas as to how the Centre might evelop. He feels that it might well proide a demonstration area where manufacturers of mechanical andling equipment could show their roducts and where the suitability of a irticular job can be evaluated. More nportant, perhaps, he considers that le Centre should become involved in le total distribution concept and move at of the warehouse to include the 3ulage field in its activities.
After 25 years as a professional ildier deeply involved in logistics and i years with J. Sainsbury Ltd, latterly a consultant to the director of disbution. Mr Ruff has had a long assonion with distribution in all its pects. While he was with Sainsbury
was principally responsible for troducing the Swedish roll-pallet to the United Kingdom and he was ncerned with the development of company's new distribution sysn involving depot location, stock ntrol, shop handling facilities and ire layout.
-le brings to the Materials Handling ntre an impressive list of qualifi:ions. He is — besides being a BSc — Member of the Institution of ichanical Engineers, a Fellow of the ;titute of Work Study Prattitioners, a Fellow of the Institute of chanical Handling. He was toured with the Order of the British pire in 1952.
le is married, with three children I four grandchildren. Peter Ruff nits to an interest in photography, dening and music. Living in the irt of Kent, he has every °Poority to follow the first two and, ause his wife is an accomplished ncian, the third presents little culty as well.