High risk with heavies
12th July 1974
Page 29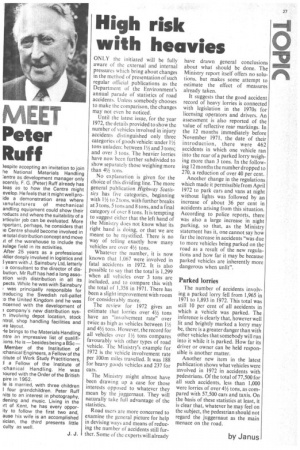 Page 29, 12th July 1974 —
High risk with heavies
Close
ONLY the initiated will be fully aware of the external and internal pressures which bring about changes in the method of presentation of such regular official publications as the Department of the Environment's annual parade of statistics of road accidents. Unless somebody chooses to make the comparison, the changes may not even be noticed.
Until the latest issue, for the year 1972, the details provided to show the number of vehicles involved in injury accidents distinguished only three categories of goods vehicle: under 11/2 tons unladen; between 11/2 and 3 tons; and over 3 tons. The heavier lorries have now been further subdivided to show separately those weighing more than 41/2 tons.
No explanation is given for the choice of this dividing line. The more general publication Highway Statistics has five categories, beginning with 11/2 to 2 tons, with further breaks at 3 tons, 5 tons and 8 tons, and a final category of over 8 tons. It is tempting to suggest either that the left hand of the Ministry does not know what its right hand is doing, or that we are meant to be mystified. There is no way of telling exactly how many vehicles are over 41A tons.
Whatever the number, it is now known that 1,067 were involved in fatal accidents in 1972. It is also possible to say that the total is 1,299 when all vehicles over 3 tons are included, and to compare this with the total of 1,358 in 1971. There has been a slight improvement with room for considerably more.
The review for 1972 gives an estimate that lorries over 41/2 tons have an "involvement rate" over twice as high as vehicles between 11/2 and 41/2 tons. H owever, the record for all vehicles over 11/2 tons compares favourably with other types of road vehicle. The Ministry's example for 1972 is the vehicle involvement rate per 100 m miles travelled. It was 188 for heavy goods vehicles and 237 for cars.
The Ministry might almost have been drawing up a case for those interests opposed to whatever they mean by the juggernaut. They will naturally take full advantage of the statistics.
Road users are more concerned to examine the general picture for help in devising ways and means of reducing the number of accidents still further. Some of the experts will already have drawn general conclusions about what should be done. The Ministry report itself offers no solutions, but makes some attempt to estimate the effect of measures already taken.
It suggests that the good accident record of heavy lorries is connected with legislation in the 1970s for licensing operators and drivers. An assessment is also reported of the value of reflective rear markings. In the 12 months immediately before November 1971, the date of their introduction, there were 462 accidents in which one vehicle ran into the rear of a parked lorry weighing more than 3 tons. In the following 12 months the number dropped to 270, a reduction of over 40 per cent.
Another change in the regulations which made it permissible from April 1972 to park cars and vans at night without lights was followed by an increase of about 36 per cent in accidents arising from this situation. According to police reports, there was also a large increase in night parking, so that, as the Ministry statement has it, one cannot say how far the increase in accidents "was due to more vehicles being parked on the road as a result of the new regulations and how far it may be because parked vehicles are inherently more dangerous when unlit".
Parked lorries
The number of accidents involving a parked lorry fell from 1,965 in 1971 to 1,893 in 1972. This total was still 10 per cent of all accidents in which a vehicle was parked. The inference is clearly that, however well lit and brightly marked a lorry may be, there is a greater danger than with other vehicles that somebody will run into it while it is parked. How far its driver or owner can be held responsible is another matter.
Another new item in the latest publication shows what vehicles were involved in 1972 in accidents with pedestrians. Of the total of 77,500 for all such accidents, less than 1,000 were lorries of over 41/2 tons, as compared with 57,500 cars and taxis. On the basis of these statistics at least, it is clear that, whatever he may feel on the subject, the pedestrian should not regard the juggernaut as the main menace on the road.
by Janus