Incapable or overcharged
12th July 1974
Page 26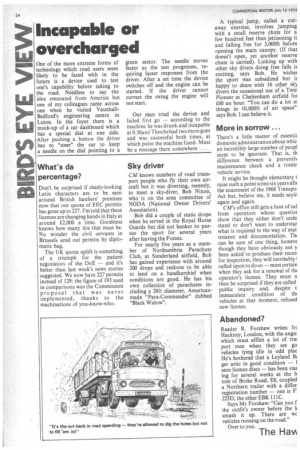 Page 26, 12th July 1974 —
Incapable or overcharged
Close
Keywords :
One of the more extreme forms of technology which road users seem likely to be faced with in the future is a device used to test one's capability before taking to the road. Needless to say the idea emanated from America but one of my colleagues came across one when he visited VauxhallBedford's engineering centre in Luton. In the foyer there is a mock-up of a car dashboard which has a special dial at one side. After pushing a button the driver has to "steer" the car to keep a needle on the dial pointing to a green sector. The needle moves faster as the test progresses, requiring faster responses from the driver. After a set time the device switches off and the engine can be started, If the driver cannot correct the swing the engine will not start.
Our man tried the device and failed first go — according to the machine he was drunk and incapable at 9.30am! Then he had two more goes and was successful both times, at which point the machine fused. Must be a message there somewhere . A typical jump, called a cutaway exercise, involves jumping with a small reserve chute for a few hundred feet then jettisoning it and falling free for 3,000ft before opening the main canopy. (If that doesn't open, yet another reserve chute is carried). Linking up with other sky divers doing free falls is exciting, says Bob. He wishes the sport was subsidized but is happy to share with 16 other sk) divers the occasional use of a Twin Pioneer at Cheltenham airfield foi £60 an hour. "You can do a lot oi things in 10,000ft of air space" says Bob. I can believe it.
More in sorrow ...
There's a little matter of essentiz domestic administration about whic an incredibly large number of peopl seem to be ignorant. That is, th difference between a preventiv maintenance check and a routin vehicle service.
It might be thought elementary t raise such a point some six years aft( the enactment of the 1968 Transpo Act but, believe me, it needs sayin again and again.
CM's office still gets a host of cal from operators whose questiot show that they either don't unde stand or don't want to understar what is required in the way of mail tenance and documentation. Th( can be sure of one thing, howeve though they have obviously not y been asked to produce their recori for inspection, they will inevitably I called upon to do so — most certain when they ask for a renewal of th( operator's licence. They must n then be surprised if they are called public inquiry and, despite t immaculate, condition of th( vehicles at that moment, refused new licence.
Abandoned?
Reader R. Forshaw writes frc Hackney, London, with the angui which must afflict a lot of trai port men when they see go vehicles lying idle in odd plac He's bothered that a Leyland Bi ger artic in good condition — sans licence discs — has been stat ing for several weeks at the b torn of Broke Road, E8, coupled a Northern trailer with a differ registration number — one is F' 223D, the other EBK 111C.
Says Mr Forshaw: "Can you f the outfit's owner before the k smash it up. There are wc vehicles running on the road."
Over to you. The Hay%