At last New York buys Leyland deckers by.reporter
12th July 1974
Page 20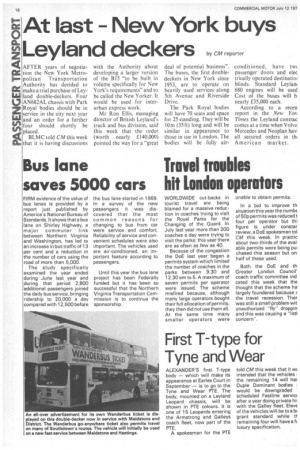 Page 20, 12th July 1974 —
At last New York buys Leyland deckers by.reporter
Close
AFTER years of negotiation the New York Metropolitan Transportation Authority has decided to make a trial purchase of Leyland double-deckers. Four AN682AL chassis with Park Royal bodies should be in service in the city next year and an order for a further four should shortly be placed.
BLMC told CM this week that it is having discussions with the Authority about developing a larger version of the B15 "to be built in volume specifically for New York's requirements" and to be called the New Yorker. It would be used for interurban express work.
Mr Ron Ellis. managing director of British Leyland's truck and bus division, said this week that the order (worth nearly £140,000) pointed the way for a "great deal of potential business". The buses, the first doubledeckers in New York since 1953, are to operate on heavily used services along 5th Avenue and Riverside Drive.
The Park Royal bodies will have 70 seats and space for 25 standing. They will be 10m (35 ft) long and will be similar in appearance to those in use in London. The bodies will be fully air conditioned, have tw( passenger doors and elec trically operated destinatioi blinds. Standard Leylan■ 680 engines will be used Cost of the buses will b nearly 05,000 each.
According to a recen report in the New Yori Times the Leyland contrac comes at a time when Volvo Mercedes and Neoplan hay. all secured orders in th. American market.