GV9s were 'a case of hiccups'
12th July 1974
Page 19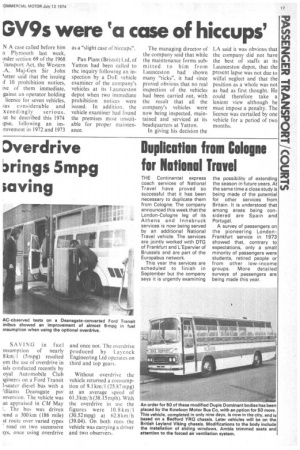 Page 19, 12th July 1974 —
GV9s were 'a case of hiccups'
Close
N A case called before him n Plymouth last week, inder section 69 of the 1968 -ransport Act, the Western .A, Maj-Gen Sir John 'otter said that the issuing if 10 prohibition notices, ive of them immediate, gainst an operator holding licence for seven vehicles, as considerable and xceedingly serious. ut he described this 1974 ipse, following an imrovement in 1972 and 1973 as a "slight case of hiccups".
Pan Plant (Bristol) Ltd, of Yatton had been called to the, inquiry following an inspection by a DoE vehicle examiner of the company's vehicles at its Launceston depot when two immediate prohibition notices were issued. In addition, the vehicle examiner had found the premises most unsuitable for proper maintenance. The managing director of the company said that while the maintenance forms submitted to him from Launceston had shown many "ticks", it had since proved obvious that no real inspection of the vehicles had been carried out, with the result that all the company's vehicles were now being inspected, maintained and serviced at its headquarters at Yatton.
In giving his decision the LA said it was obvious that the company did not have the best of staffs at its Launceston depot, that the present lapse was not due to wilful neglect and that the position as a whole was not as bad as first thought. He could therefore take a lenient view although he must impose a penalty. The licence was curtailed by one vehicle for a period of two months.