Vehicle'supplied'when delivered, High Court rid'
12th July 1974
Page 18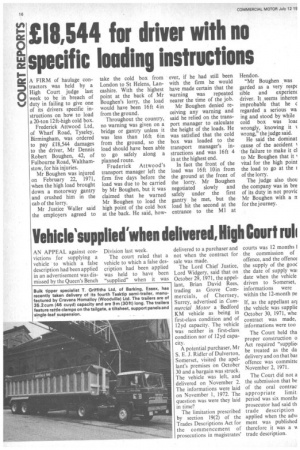 Page 18, 12th July 1974 —
Vehicle'supplied'when delivered, High Court rid'
Close
AN APPEAL against convictions for supplying a vehicle to which a false description had been applied in an advertisement was dismissed by the Queen's Bench Division last week.
The court ruled that a vehicle to which a false description had been applied was held to have been "supplied" when it was delivered to a purchaser and not when the contract for sale was made.
The Lord Chief Justice, Lord Widgery, said that on October 29, 1971, the appellant, Brian David Rees, trading as Grove Commercials, of Chertsey, Surrey, advertised in Commercial Motor a Bedford KM vehicle as being in first-class condition and of 12yd capacity. The vehicle was neither in first-class condition nor of 12yd capacity.
A potential purchaser, Mr S. E. J. Ridler of Dulverton, Somerset, visited the apellanes premises on October 30 and a bargain was struck. The vehicle was left, and delivered on November 2. The informations were laid on November 1, 1972. The question was were they laid in time?
The limitation prescribed by section 19(2) of the Trades Descriptions Act for the commencement of prosecutions in magistrates' courts was 12 months 1 the commission of offence, and the offence the supply of the gooc the date of supply wa: date when the vehicle driven to Somerset, informations were within the 12-month pe If, as the appellant arl the vehicle was supplie October 30, 1971, whe contract was made, informations were too The Court held tha proper construction o Act required "supplied be treated as the da delivery and on that bas offence was committe November 2, 1971.
The Court did not a the submission that be of the oral contrac.
appropriate limit period was six months prosecutor had said th trade description applied when the advd ment was published therefore it was a trade description.