ople
12th July 1974
Page 17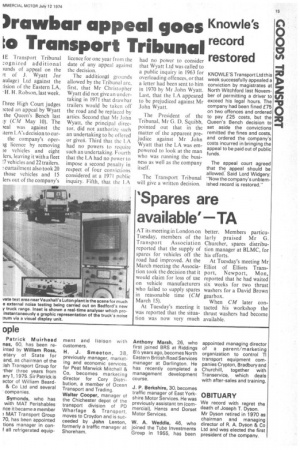 Page 17, 12th July 1974 —
ople
Close
Patrick Muirhead nas, 60, has been reinted by William Ross, etary of State for and, as chairman of the lish Transport Group for 1her three years from aryl, 1975. Sir Patrick is actor of William Beard & Co Ltd and several companies.
Symonds, who has with MAT Perishables nce it became a member
MAT Transport Group 70, has been appointed tions manager in conf all refrigerated equip
ment and liaison with customers.
H. J. Smeeton, 38, previously manager, marketing and economic services, for Peat Marwick Mitchell & Co, becomes marketing director for Cory Distribution, a member of Ocean Transport and Trading.
Walter Cooper, manager of the Chichester depot of the transport division of PD Wharfage & Transport, moves to Croydon and is succeeded by John Lenton, formerly a traffic manager at Shoreham. Anthony Marsh, 26, who first joined BRS at Riddings 81/2 years ago, becomes North Eastern British Road Services manager at Darlington. He has recently completed a management development course.
J. P. Berkshire, 30, becomes traffic manager of East Yorkshire Motor Services. He was previously assistant tm (commercial), Hants and Dorset Motor Services.
W. A. Weddle, 46, who joined the Tube Investments Group in 1955, has been appointed managing director of a parent/marketing organization to control TI transport equipment companies Crypton, Bradbury and Churchill, together with Transervice, which deals with after-sales and training.
OBITUARY
We record with regret the death of Joseph T. Dyson. Mr Dyson retired in 1970 as chairman and managing director of R. A. Dyson & Co Ltd and was elected the first president of the company.