BR foresees no change in road /rail competitior
12th July 1974
Page 16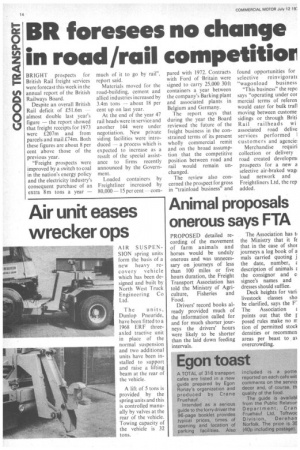 Page 16, 12th July 1974 —
BR foresees no change in road /rail competitior
Close
BRIGHT prospects for British Rail freight services were forecast this week in the annual report of the British Railways Board.
Despite an overall British Rail deficit of £51.6m — almost double last year's figure — the report showed that freight receipts for 1973 were £207m and from parcels and mail £74m. Both these figures are about 8 per cent above those of the previous year.
"Freight prospects were improved by a switch to coal in the nation's energy policy and the electricity industry's consequent purchase of an extra 8m tons a year — much of it to go by rail", report said.
Materials moved for the road-building, cement and allied industries increased by 3.4m tons — about 18 per cent up on last year.
At the end of the year 47 rail heads were in service and another 144 were under negotiation. New private siding facilities were introduced — a process which is expected to increase as a result of the special assistance to firms recently announced by the Government.
Loaded containers by Freightliner increased by 80,000 — 15 per cent — corn pared with 1972. Contracts with Ford of -Britain were signed to carry 25,000 30ft containers a year between the company's Barking plant and associated plants in Belgium and Germany.
The report says that during the year the Board reviewed the future of the freight business in the constrained terms of its present wholly commercial remit and on the broad assumption that the competitive position between road and rail would remain unchanged.
The review also concerned the prospect for gross in "trainload business" and found opportunities for selective reinvigorate "wagonload business "This business" the repo says "operating under cor mercial terms of referen would cater for bulk trail moving between custome sidings or through Briti Rail railheads wi associated road delive services performed I customers and agencie: Merchandise requiri collection or delivery road created developm( prospects for a new a selective air-braked wag( load network and Freightliners Ltd, the rep added.