Vlore permits in '76 -then finish
12th July 1974
Page 15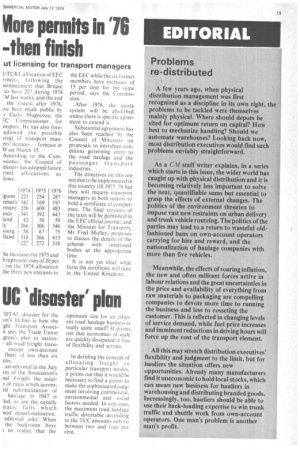 Page 15, 12th July 1974 —
Vlore permits in '76 -then finish
Close
ut licensing for transport managers
UTURE allocation of EEC .rmits, following the mouncement that Britain to have 227 during 1974 7/14 last week), and the end the system after 1976. Lve been made public by r Carlo Mugnozza, the EC Commissioner for tnsport. He has also foreadowed the possible vival of transport maners' licences — forecast in 14 on March 15.
According to the Cornssioner. the Council of inisters has adopted future rmit allocations as lows: 'he increases for 1975 and 5 represent rises of 20 per : on the 1974 allocation the three new entrants to the EEC while the six former members have increases of 15 per cent for the same period, says the Commission.
After 1976, the quota system will be abolished unless there is specific agreement to extend it.
Substantial agreement has also been reached by the Council of Ministers on proposals to introduce conditions governing entry to the road haulage and the passenger transport industries.
The directives on this are not due to be implemented in this country till 1977: 78 but they will require transport managers in both sectors to hold a certificate of competence. The final versions of the texts will be published in the EEC official journal, and the Minister for Transport, Mr Fred Mulley, proposes to discuss the details of the scheme with interested bodies at the appropriate time.
It is not yet clear what form the certificate will take in the United Kingdom.