Problems re-distributed
12th July 1974
Page 15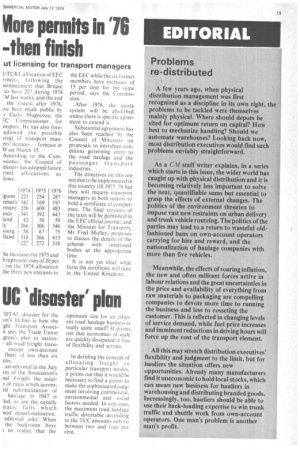 Page 15, 12th July 1974 —
Problems re-distributed
Close
A few years ago, when physical distribution management was first recognized as a discipline in its on right, the problems to be tackled were themselves mainly physical. Where should depots be sited for optimum return on capital? How best to mechanize handling? Should we automate warehouses? Looking back now, most distribution executives would find such problems enviably straightforward.
As a CM staff writer explains, in a series which starts in this issue, the wider world has caught up with physical distribution and it is becoming relatively less important to solve the neat, quantifiable sums but essential to grasp the effects of external changes. The politics of the environment threaten to impose 'vast new restraints on urban delivery and trunk vehicle routeing. The politics of the parties may lead to a return to wasteful oldfashioned bans on own-account operators carrying for hire and reward, and the nationalization of haulage companies with more than five vehicles.
Meanwhile, the effects of roaring inflation, the new and often militant forces active in labour relations and the great uncertainties in the price and a% ailability of everything from raw materials to packaging are compelling companies to devote more time to running the business and less to cosseting the customer. This is reflected in changing levels of service demand, while fuel price increases and imminent reductions in driving hours will force up the cost of the transport element.
All this may stretch distribution executives' flexibility and judgment to the limit, but for hauliers the situation offers new opportunities. Already many manufacturers find it uneconomic to hold local stocks, which can mean new business for hauliers in warehousing and distributing branded goods. Increasingly, too, hauliers should be able to use their back-loading expertise to win trunk traffic and shuttle work from own-account operators. One man's problem is another man's profit.