DC 'disaster' plan
12th July 1974
Page 15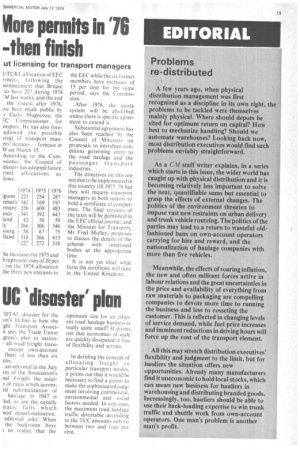 Page 15, 12th July 1974 —
DC 'disaster' plan
Close
70TA I. disaster for the on's lifeline is how the .ght Transport Associn sees the Trade Union .gress's plan to nation! all road freight transexcept own:account fleets of less than six des.
I an editorial in the July on of the Association's nal Freight the escalof rates which accomed nationalization of haulage in 1947 is Iled, as are the equally -natic falls which wed denationalization. editorial asks: When the back room boys i to realize that the optimum size for an efficient road haulage business is really quite small? It points out that economies of scale are quickly dissipated in loss of flexibility and service.
In deriding the concept of allocating freight to particular transport modes, it points out that it would he necessary to find a genius to make the sophisticated judgment involving commercial, environmental and social factors needed. In any case, the maximum road haulage traffic divertable according to the TUC amounts only to between two and four per cent.