!VOA council recommends
12th July 1974
Page 13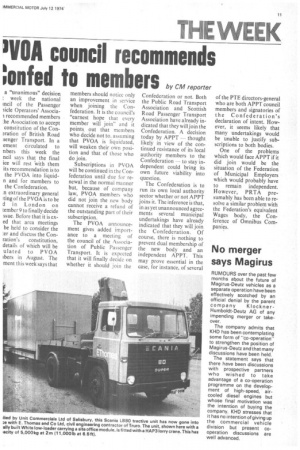 Page 13, 12th July 1974 —
!VOA council recommends
Close
:onfed to members by CM
a "unanimous" decision week the national incil of the Passenger licle Operators' Associa recommended members the Association to accept constitution of the Con ration of British Road senger Transport. In a ement circulated to ubers this week the ncil says that the final ice will rest with them its recommendation is to the PVOA into liquid n and for members to the Confederation, n extraordinary general ling of the PVOA is to be d in London on tember 9 to finally decide ssue. Before that it is exed that area meetings be held to consider the ler and discuss the Con ration's constitution, details of which will be ulated to PVOA ibers in August. The ment this week says that members should notice only an improvement in service when joining the Confederation. It is the council's "earnest hope that every member will join" and it points, out that members who decide not to, assuming that PVOA is liquidated, will weaken their own position and that of those who do join.
Subscriptions in PVOA will be continued in the Confederation until due for renewal in the normal manner but, because of company law, PVOA members who did not join the new body cannot receive a refund of the outstanding part of their subscription.
The PVOA announcement gives added importance to a meeting of the council of the Association of Public Passenger Transport. It is expected that it will finally decide on whether it should join the Confederation or not. Both the Public Road Transport Association and Scottish Road Passenger Transport Association have already indicated that they will join the Confederation. A decision today by APPT thought likely in view of the continued resistance of its local authority members to the Confederation — to stay independent could bring its own future viability into question.
The Confederation is to run its own local authority sector whether or not APPT joins it. The inference is that, in as yet unannounced agreements several municipal undertakings have already indicated that they will join the Confederation. Of course, there is nothing to prevent dual membership of the new body and an independent APPT. This may prove essential in the case, for instance, of several of the PTE directors-general who are both APPT council members and signatories of the Confederation's declaration of intent. However, it seems likely that many undertakings would be unable to justify subscriptions to both bodies.
One of the problems which would face APPT if it did join would be the situation of the Federation of Municipal Employers which would probably have to remain independent. However, PRTA presumably has been able to resolve a similar problem with the Federation's equivalent Wages body, the Conference of Omnibus Companies.