The Road Motor's Part in Re-building Quetta
12th July 1935
Page 55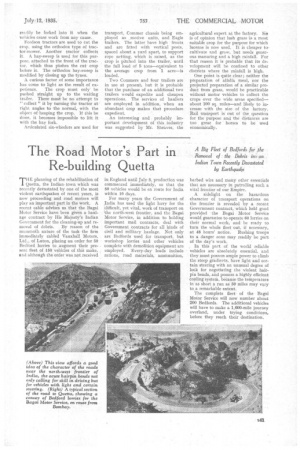 Page 55, 12th July 1935 —
The Road Motor's Part in Re-building Quetta
Close
A Big Fleet of Bedfords for .the Removal of the Debris ink. an Indian Town Recently Devastated by Earthquake THE planning of the rehabilitation of Quetta, the Indian. town which was recently deVastated by one of the most violent earthquakes of recent years, is now proceeding and road motors wilt play an important part in the work. A recent cable advises us that the Bagai Motor Service have been given a haulage contract by His Majesty's Indian Government for the cleaning-up and re
moval of debris. By reason of the mammoth nature of the task the firm immediately cabled Vauxhall Motors, Ltd., of Luton, placing an order for 50 Bedford lorries to augment their present fleet of 150 vehicles of this make, and although the order was not received in England until July 3, production was commenced immediately, so that the 50 vehicles would be en route for India within 10 days.
For many years the Government of India has used the light lorry for the ;difficult, yet vital, work of transport on the north-west frontier, and the Bagai Motor Service, in addition to holding important mail contracts, deal with Government contracts for all kinds of civil and military haulage. Not only are Bedfords used for transport, but workshop lorries and other vehicles complete with demolition equipment are employed. Every-day loads include rations, road materials, ammunition, barbed wire and many other essentials that are necessary in patrolling such a vital frontier of our Empire.
A sidelight on the hazardous character of transport operations on the frontier is revealed by a recent Government contract, which held good provided the Bagai Motor Service would guarantee to operate 60 lorries on their normal work, and be ready to turn the whole fleet out, if necessary,
at 48 hours' notice. Rushing troops to a danger zone may readily be part of the day's work.
In this part. of the world reliable vehicles are absolutely essential, and they must possess ample power to climb the steep gradients, have light and certain steering with an unusual degree of lock for negotiating the violent hairpin bends, and possess a highly efficient cooling system, because the temperature in as short a run as 50 miles may vary to a remarkable extent.
The complete fleet of the Bagai Motor Service will now number about 200 Bedfords. The additional vehicles will have to make a 1,600-mile journey overland, under trying conditions, before they reach their destination.