A New Croft Three-wheeler
12th July 1935
Page 50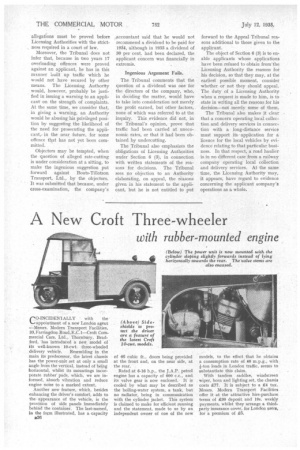 Page 50, 12th July 1935 —
A New Croft Three-wheeler
Close
with rubber-mounted engine CO-INCIDENIALLY • with the appointinent of a new London agent -=Messrs. Modern Transport Facilities, 33, Farringdon Road, B.C. 1—Croft Commercial Cars, Ltd., Thornbury, Bradford, has •introduced a new model of its well-known 30-cwt. three-wheeled delivery vehicle. Resembling in the main its predecessor, the latest chassis has the power-unit set at only a small angle "from the vertical, instead of being horizontal, whilst its mountings incorporate rubber" pads, which, we are informed, absorb vibration and reduce engine noise to a marked extent.
Another new feature, which, besides enhancing the driver's comfort, adds to the appearance of the vehicle, is the provision of side panels immediately behind the container. The last-named, in the form illustrated, has a capacity
;IX of 46 cubic ft., doors being provided at the front and, on the near side, at the rear.
Rated at 6-16 h,p., the J.A.P. petrol engine has a capacity of 600 cc., and its valve gear is now enclosed. It is cooled by what may be described as the boiling-water system, a tank, but no radiator, being in communication with the cylinder jacket. This system is claimed to make for efficient running and the statement, made to us by an independent owner of one of the new models, to the effect that he obtains a consumption rate of 40 m.p.g., with• i-ton loads in London traffic, seems to substantiate this claim.
With tandem saddles, windscreen wiper, horn and lighting set, the chassis costs £79. It is subject to a £4 tax. Messrs. Modern Transport Facilities offer it at the attractive hire-purchase terms of £30 deposit and 19s. weekly payments, whilst they arrange a thirdparty insurance cover, for London users, for a premium of £5.