Air Transport News
12th July 1935
Page 38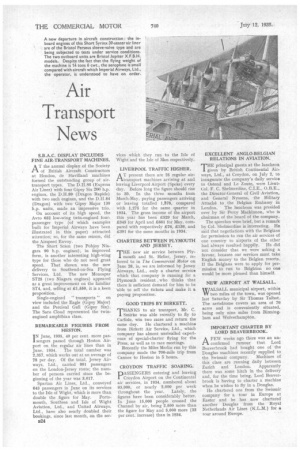 Page 38, 12th July 1935 —
Air Transport News
Close
S.B.A.C. DISPLAY INCLUDES FINE AIR-TRANSPORT MACHINES.
AT the annual display of the Society of British Aircraft Constructors at Hendon, de Havilland machines formed the outstanding group of airtransport types. The D.I1.86 (Express Air Liner) with four Gipsy Six 200 h.p. engines, the D.H.89 (Dragon Rapide) with two such engines, and the D.II.84 (Dragon) with two Gipsy Major 130 h.p. units, made an impressive trio.
On account of its high speed, the Avro 652 low-wing twin-engined fourpassenger type (of which examples built for Imperial Airways have been illustrated in this paper) attracted attention; so, for the same reason, did the Airspeed Envoy.
The Short Scion (two Pobjoy Niagara 90 h.p. engines), in improved form, is another interesting high-wing type for those who do not need great speed. That shown was the new delivery to Southend-on-Sea Flying Services, Ltd. The new Monospar ST25 (two Niagara engines) appeared as a great improvement on the familiar ST4, and, selling at 41,550, it is a keen proposition.
Single-engined "transports " on view included the Eagle (Gipsy Major) and the Percival Gull (Gipsy Six). The Saro Cloud represented the twinengined amphibian class.
REMARKABLE FIGURES FROM HESTON.
I N June, 1935, 40 per cent. more pas
sengers passed througli Heston Airport on the regular air lines than in June, 1934. The total number was 2,357, which works out at an average of 78 per day. Of the total, Jersey Airways, Ltd., carried 991 passengers on the London-Jersey route; the number of persons carried since the beginning of the year was 3,017.
Spartan Air Lines, Ltd., conveyed 643 passengers in June on its services to the Isle of Wight, which is more than
double the figure for May. Portsmouth, Southsea and Isle of Wight Aviation, Ltd.., and United Airways, Ltd., have also nearly doubled their bookings, since last month, on the ser
B24 vices which they run to the Isle of Wight and the Isle of Man respectively.
LIVERPOOL TRAFFIC HIGHER.
ATpresent there are 25 regular airtransport machines arriving at and leaving Liverpool Airport (Speke) every day. Before long the figure should rise to 30. In the three months from March-May, paying passengers arriving or leaving totalled 1,78, compared with 1,275 for the same quarter in 1934. The gross income of the airport this year has been £529 for March, £345 for April and £661 for May, compared with respectively £76, £139, and £391 for the same months in 1934.
CHARTERS BETWEEN PLYMOUTH AND JERSEY.
THE new air service between Plymouth and St. Helier, Jersey, referred to in The Commercial Motor on June 28, is, we are informed by Jersey Airways, Ltd., only a charter service which that company is running for a Plymouth resident . who thinks that there is sufficient demand for him to be 'able to sell the tickets and make it a paying proposition.
GOOD TRIPS BY BIRKETT.
THANKS to air transport, Mr. C. Smirke was able recently to fly to Carlisle, win two races and return the same day. He chartered a machine from Birkett Air Service, Ltd., which company has almost unrivalled experience of special-charter flying for the Press, as well as to race meetings.
Recently the Miles Merlin run by this company made the 706-mile trip from Cannes to Heston in 5 hours.
CROYDON TRAFFIC SOARING:
PASSENGERS entering and leaving Croydon Airport on the Continental air services, in 1934, numbered about 93,000, or nearly 2,000 per week throughout the year. Lately, the figures have been considerably better. In June 15,000 people crossed the Channel by air, being 2,500 more than the figure for May and 5,000 more (33 per cent. Increase) than in 1934.
EXCELLENT ANGLO-BELGIAN RELATIONS IN AVIATION..
T"principal guests at the luncheon given by British Continental Airways, Ltd., at Croydon, on July 2, to inaugurate the company's daily service to Ostend and Le Zoute, were LieutCol. F. C. Shelmerdine, C.I.E., 0.B.E., the Director-General of Civil Aviation, and General Nyssens, the Military Attaché to the Belgian Embassy in London. The luncheon was presided over by Sir Percy Mackinnon, who is chairman of the board of the company.
The speeches were brief, but a remark by Col. Shelmerdine is interesting. He said that negotiations with the Belgians for permission to run the air services of one country to airports of the other had always resulted happily. He did not consider that we were asking a favour, because our services must take English money to the Belgian resorts. If the Belgians were to apply for permission to run to . Brighton no one would be more pleased than himself.
NEW AIRPORT AT WALSALL.
WALSALL municipal airport, within two miles of the town, was opened last Saturday by Sir Thomas Talbot. The aerodrome covers an area of 70 acres and is conveniently situated, being only nine miles from Birmingham and Wolverhampton.
IMPORTANT CHARTER BY LORD BEAVERBROOK.
AFEW weeks ago there was an unconfirmed rumour that Lord Beaverbrook had bought one of the Douglas machines recently supplied to
the Swissair company. Machines of this . class are running daily between Zurich and London. Apparently there was some hitch in the delivery and, for the time being, Lord Beaverbrook is having to charter a machine when he wishes to fly in a Douglas.
He chartered one from the Swissair company for a tour in Europe at Easter and he has now chartered another Douglas from the Royal Netherlands Air Lines (K.L.M.) for a tour around Europe.