AUTHORITY FAVOURS AGREED RATES
12th July 1935
Page 37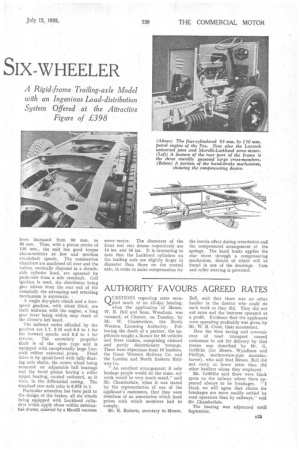 Page 37, 12th July 1935 —
AUTHORITY FAVOURS AGREED RATES
Close
nUESTIONS regarding rates occu
pied much of an all-day hearing,
when the application of Messrs. W. B. Bell and Sons, Wrexham, was resumed, at Chester, on Tuesday, by Mr. W. Chamberlain, the North Western Licensing Authority. Following the death of a partner, the applicants sought a licence for 33 vehicles and three trailers, comprising claimed and partly discretionary tonnage. There were objections from 10 hauliers, the Great Western Railway Co. and the London and North Eastern RailWay Co.
" An excellent arrangement; if only haulage people would do the same, my work would be very much eased," said Mr. Chamberlain, when it was stated by the representative of one of the applicant's customers, that they were members of an association which fixed prices with which members had to comply.
Mr. E. Roberts, secretary to Messrs.
Bell, said that there was no other haulier in the district who could do such work as they did. They did not cut rates and the business operated at a profit. Evidence that the applicants were operating profitably was given by Mr. W. R. Cross, their accountant.
How the time saving and convenience of road transport caused customers to ask for delivery by that means was described by Mr. G. Griffiths (for Messrs. Wyndham and Phillips, earthenware-pipe manufacturers), who said that Messrs. Bell did not carry at lower rates than did other hauliers whom they employed.
Mr. Griffiths said there were black spots on the railway where there appeared always to be breakages. " I think we will agree that claims for breakages are more readily settled by road operators than by railways," said Mr. Chamberlain.
The hearing was adjourned until September.