SAFETY STRESSED AT I.M.T. DINNER.
12th July 1935
Page 34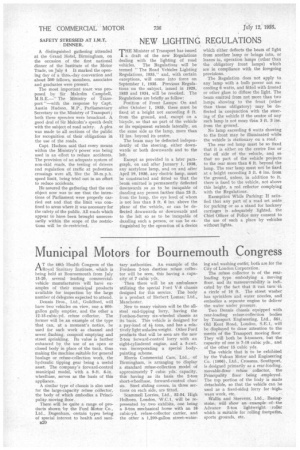 Page 34, 12th July 1935 —
SAFETY STRESSED AT I.M.T. DINNER.
Close
A distinguished gathering attended at the Grand Hotel, Birmingham, on the occasion of the first national dinner of the Institute of the Motor Trade, on July 4 It marked the opening day of a thrts--day convention and about 500 fellows, members, associates and graduates were present.
The most important toast was proposed by Sir Malcolm Campbell, M.B.E.—" The Ministry of Transport "—with the response by Capt. Austin Hudson, M.P., Parliamentary Secretary to the. Ministry of Transport ; both these speeches were broadcast. A good deal of Sir Makolm's speech dealt with the subject of road safety. A plea was made to all sections of the public for recognition of their obligations in the use of the roads.
Capt. IIudson said that every means within the Ministry's power was being used in an effort to reduce accidents. The provision of an adequate system of non-skid roads, the testing of drivers and regulation of traffic at pedestrian crossings were all, like the 30-m.p.h. speed limit, being tried out in an effort to reduce accidents.
He assured the gathering that the one object now was to see that the intentions of Parliament were properly carried out and that the limit was confined to areas where it was necessary for the safety of the public. All roads which appear to have been brought unnecessarily within the scope of the restrictions will be de-restricted.