NEW LIGHTING REGULATIONS•
12th July 1935
Page 34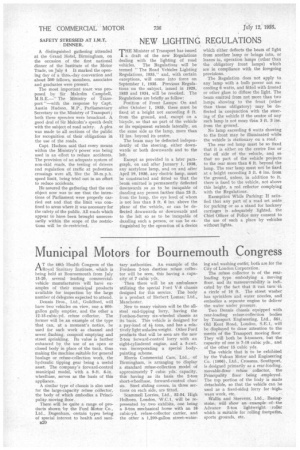 Page 34, 12th July 1935 —
NEW LIGHTING REGULATIONS•
Close
THE Minister of Transport has issued a draft of the new Regulations dealing with the lighting of road vehicles. The Regulations will be termed "The Road Vehicles Lighting Regulations, 1935," and, with certain exceptions, will come into force on September 1, 1935. Previous Regulations on the subject, issued in 1929, 1933 and 1934, will be revoked. The Regulations are briefly as follow:
Position of Front Lamps: On and after October 1, 1935, these must be fixed at a height not exceeding 5 ft. from the ground, and, except on a bicycle, so that no part of the vehicle or its equipment extends laterally, on the same side as the lamp, more than 12 ins, beyond its centre.
The beam may be deflected independently of the steering, either downwards or both downwards and to the left.
Except as provided in a later paragraph, on and after January 1, 1938, any acetylene lamp, and on and after April 19, 1936, any electric lamp, must be constructed and fitted so that the beam emitted is permanently deflected downwards so as to be incapable of dazzling any person further than 25 ft. from the lamp, the eye level of whom is not less than 3 ft. 6 ins, above the plane of the vehicle, or can be deflected downwards or downwards and to the left so as to be incapable of dazzling such a person, or can be extinguished by the operation of a device which either deflects the beam of light from another lamp or brings into, or leaves in, operation lamps (other than the obligatory front lamps) which are in compliance with the foregoing provisions.
The Regulation does not apply to any lamp with a bulb power not exceeding 6 watts, and fitted with frosted or other glass to diffuse the light. The beam emitted from not more than two lamps showing to the front (other than those obligatory) may be deflected in conjunction with the steering of the vehicle if the centre of any such lamp is not more than 3 ft. 3 ins. from the ground.
No lamp exceeding 6 watts showing to the front may be illuminated while the vehicle is stationary on a road.
The rear red lamp must be so fixed that it is either on the centre line or the off side of the vehicle, and so that no part of the vehicle projects to the rear more than 6 ft. beyond the lamp. The rear lamp must not be fixed at a height exceeding 3 ft. 6 ins, from the ground, unless, in addition to it, there is fixed to the vehicle, not above this height, a red reflector complying with the Regulations.
Exemption While Parking: If satisfied that any part of a road set aside for parking or as a stand for hackney carriages is adequately lighted, the Chief Officer of Police may consent to the use of such a place by vehicles without lights.