Municipal Motors for Bournemouth Congress
12th July 1935
Page 34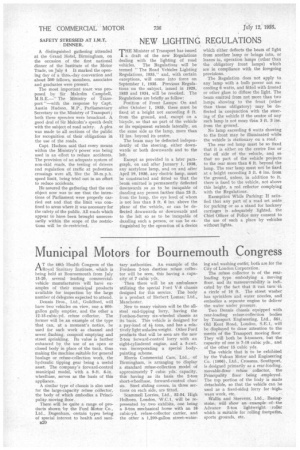 Page 34, 12th July 1935 —
Municipal Motors for Bournemouth Congress
Close
AT the 46th Health Congress of the Royal Sanitary Institute, which is being held at Bournemouth from July 15-20, several *leading commercialvehicle manufacturers will have examples of their municipal products available for inspection by the large number of delegates expected to attend.
Dennis Bros., Ltd., Guildford, will have two vehicles on view, one a 600gallon gully emptier, and the other a 12-15-cubic-yd. refuse collector. The former will he an example of the type that can, at a moment's notice, be used for such work as channel and sewer .flushing, cesspool emptying and street sprinkling. Its value is further enhanced by, the use of an open or closed body in place of the tank, thus making the machine suitable for general haulage or refuse-collection work, the hydraulic tipping gear being a useful asset. The company's forward-control municipal model, with a 9-ft. 6-in. wheelbase, serves as the basis of this appliance.
A similar type of chassis is also used for the large-capacity refuse collector, the body of which embodies a Principality.moving floor.
There. will be quite a range of products shown by the Ford Motor Co., Ltd., Dagenham, certain types being of special interest to health and sani B20 tary authorities. An example of the Fordson 2-ton dustless refuse collector will be seen, this having a capacity of 7 cubic yds.
Then there will be an ambulance utilizing the special Ford V-8 chassis designed for this service. The body is a product of Herbert Lomas; Ltd., Manchester.
New to many visitors will be the allsteel end-tipping lorry, having the Fordsou-Surrey six-wheeled chassis as its basis, This vehicle is designed for pay-load of 44 tons, and has * relatively light unladen weight. Other Ford products that will be seen are the new 2-ton forward-control lorry with an eight-cylindered engine, and a 5-cwt. van incorporating a special bodypainting scheme.
Morris Commercial Cars, Ltd., of Birmingham, is arranging to display a standard refuse-collection model of approximately 7 cubic yds: capacity, this having as its basis the 2-ton short-wheelbase, forward-control chassis. Steel sliding covers, in three sections on each side, are fitted.
Scammell Lorries, Ltd., 52-54, High Holborn, London, W.C.1, will be represented by two exhibits, one being a 3-ton mechanical horse with an 18 cubic-yd. refuse-collector carrier, and the other a 1,200-gallon street-water
ing and washing outfit; both are for the City of London Corporation.
The refuse collector is of the rearloading type embodying a moving floor, and its manceuvrability is indicated by the fact that it can turn -in a circle of 16 ft. The street washer has sprinklers and water nozzles, and embodies a separate engine to deliver the water under pressure.
Two Dennis chassis equipped with rear-loading refuse-collection bodies by Transport Engineering, Ltd., 561, Old Kent Road, London, S.E,1, will be displayed to draw attention to the merits of the Transport moving floor. They will both be 3-tonners, but the capacity of one is 7-10 cubic yds., and of the other 15 cubic yds.
The vehicle that is to be exhibited by the Vulcan Motor and Engineering Co. (1906), Ltd,, Crossens, Southport, is designed primarily as a rear-loading, movable-floor refuse collector, the Principality floor being 'employed. The top portion of the body is made detachable, so that the vehicle can be used as a fixed-sided lorry for high, ways work, etc.
Wallis and Steevens, Ltd., Basingstoke, will show an example of the Advance 2-ton lightweight roller which is suitable for rolling footpaths, sports grounds, etc.