Fighting for the Pigs
12th July 1935
Page 27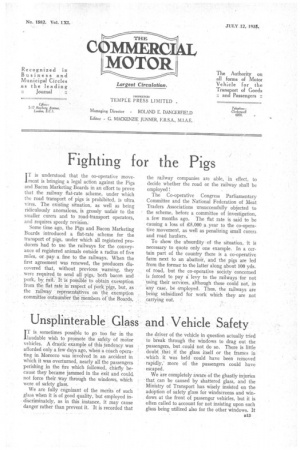 Page 27, 12th July 1935 —
Fighting for the Pigs
Close
IT is understood that the co-operative move ment is bringing a legal action against the Pigs and Bacon Marketing Boards in an effort to prove that the railway flat-rate scheme, under which the road transport of pigs is prohibited, is ultra vires. The existing situation, as well as being ridiculously anomalous, is grossly unfair to the smaller curers and to road-transport operators, and requires speedy revision.
Some time ago, the Pigs and Bacon Marketing Boards introduced a flat-rate scheme for the transport of pigs, under which all registered producers had to use the railways for the conveyance of registered animals outside a radius of five miles, or pay a fine to the railways. When the first agreement was renewed, the producers discovered that, without previous warning, they were required to send all pigs, both bacon and pork, by rail. It is possible to obtain exemption from the flat rate in respect of pork -pigs, but, as the railway representatives on the exemption committee outnumber the members of Boards, the railway companies arc able, in effect, to decide whether the road or the railway shall be employed !
The Co-operative Congress Parliamentary Committee and the National Federation of Meat Traders Associations unsuccessfully objected to the scheme, before a committee of investigation, a few months ago. The flat rate is said to be causing a loss of £5,000 a year to the co-operative movement, as well as penalizing Small curers and road hauliers.
To show the absurdity of the situation, it is necessary to quote only one example. In a certain part of the country there is a co-operative farm next to an abattoir, and the pigs are led from the former to the latter along about 100 yds. of road, but the co-operative society concerned is forced to pay levy to the railways for not using their services, although these could not, in any case, be employed. Thus, the railways are being subsidized for work which they are not carrying out.