MIDLAND MILITARY TRANSPORT.
12th July 1921
Page 16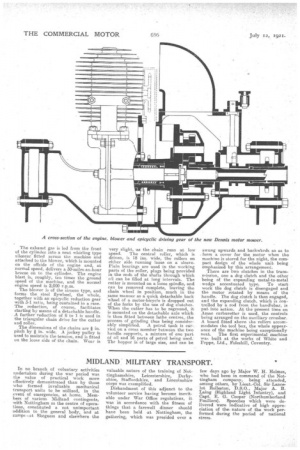 Page 16, 12th July 1921 —
MIDLAND MILITARY TRANSPORT.
Close
In no branch of voluntary activities undertaken during the war period was the value of practical work more effectively demonstrated than by those who) formed invaluable mechanical transport units to be utilized, in the event of emergencies, at home. Members of various Midland contingents, with Nottingham as the centre of operations, constituted a not unimportant addition to the general body, and at camps -at Skegness and elsewhere the valuable nature of the training of Nottinghamshire, Leicestershire, Derbyshire, Staffordshire, and Lincolnshire corps was exemplified.
Disbandment of this adjunct to the volunteer service having become inevitable under War Office regulations, it was in accordance with the fitness of things that a farewell dinner should have been held at Nottingham, the gathering, which was presided over a
few days ago by Major W. H. Holmes, who had been in command of the Nottingham company, being attended, among others, by Lieut.-Col. Sir Lancelot Rolleston, D.S.O., Major A. B. Laing (Highland Light Infantry), and Capt. E. G. Cooper (Northumberland Fusiliers). Speeches which were delivered were indicative of high appreciation of the nature of the work performed during the period of national stress.