TC disqualifies 'rotten' hauliers
12th January 2012
Page 7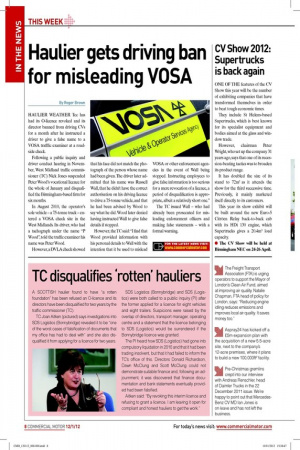 Page 7, 12th January 2012 —
TC disqualifies 'rotten' hauliers
Close
A SCOTTISH haulier found to have "a rotten foundation" has been refused an O-licence and its directors have been disqualified for two years by the traffic commissioner (TC).
TC Joan Aitken (pictured) says investigations into SDS Logistics (Bonnybridge) revealed it to be "one of the worst cases of falsification of documents that my office has had to deal with" and she also disqualified it from applying for a licence for two years. SDS Logistics (Bonnybridge) and SDS (Logistics) were both called to a public inquiry (PI) after the former applied for a licence for eight vehicles and eight trailers. Suspicions were raised by the overlap of directors, transport manager, operating centre and a statement that the licence belonging to SDS (Logistics) would be surrendered if the Bonnybridge licence was granted.
The PI heard how SDS (Logistics) had gone into compulsory liquidation in 2010 and that it had been trading insolvent, but that it had failed to inform the TC's office of this. Directors Donald Richardson, Dawn McClung and Scott McClung could not demonstrate suitable finance and, following an adjournment, it was discovered that finance documentation and bank statements eventually provided had been falsified.
Aitken said: "By revoking this interim licence and refusing to grant a licence, I am leaving it open for compliant and honest hauliers to get the work."