TOP STORIES THIS WEEK
12th January 2012
Page 6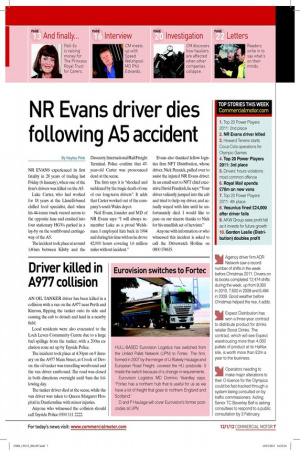 Page 7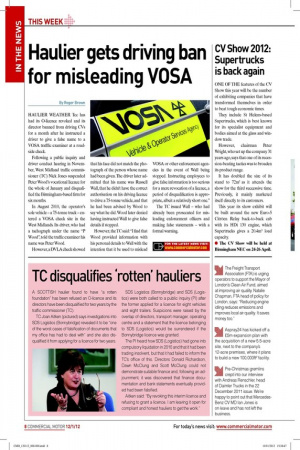 Page 10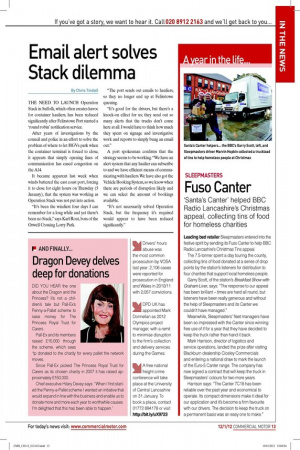 Page 6, 12th January 2012 —
TOP STORIES THIS WEEK
Close
Commercialmotor.com
1. Top 20 Power Players 2011: 2nd place 2. NR Evans driver killed 3. Howard Tenens starts Coca-Cola operations for Olympic Games 4. Top 20 Power Players 2011: 3rd place 5. Drivers' hours violations most common offence 6. Royal Mail spends £70m on new vans 7. Top 20 Power Players 2011: 4th place 8. Vesuvius fined £24,000 after driver falls 9. AKW Group sees profit fall as it invests for future growth 10. Gordon Leslie (Distribution) doubles profit Agency driver firm ADR Network saw a record number of shifts in the week before Christmas 2011. Drivers on its books completed 12,474 shifts during the week, up from 9,300 in 2010, 7,500 in 2009 and 5,494 in 2008. Good weather before Christmas helped the rise, it adds.
Expect Distribution has won a three-year contract to distribute product for drinks retailer Boost Drinks. The contract, which will see Expect warehousing more than 4,000 pallets of product at its Halifax site, is worth more than £2m a year to the business.
Operators needing to make major alterations to their O-licence for the Olympics could be fast-tracked through a system being consulted on by traffic commissioners. Acting Senior TC Beverley Bell is asking consultees to respond to a public consultation by 3 February. The Freight Transport Association (FTA) is urging operators to support the Mayor of London's Clean Air Fund, aimed at improving air quality. Natalie Chapman, FTA head of policy for London, says: "Reducing engine idling reduces emissions and improves local air quality. It saves money too."
Aspray24 has kicked off a £5m expansion plan with the acquisition of a new 5.5-acre site, next to the company's 12-acre premises, where it plans to build a new 100,000ft2 facility.
Pre-Christmas gremlins crept into our interview with Andreas Renschler, head of Daimler Trucks in the 22 December 2011 issue. We're happy to point out that MercedesBenz CV MD Ian Jones is on leave and has not left the business. Drivers' hours abuse was the most common prosecution by VOSA last year: 2,106 cases were reported for prosecution in England and Wales in 2010/11 with 2,057 convictions.
DPD UK has appointed Mark Donnellan as 2012 Olympics project manager, with a remit to minimise disruption to the firm's collection and delivery services during the Games.
A free national freight crime conference will take place at the University of Central Lancashire on 31 January. To book a place, contact 01772 894178 or visit http://bit.ly/uX9723