Palletways fined £60,000 for forklift driver's broken neck
12th January 2012
Page 5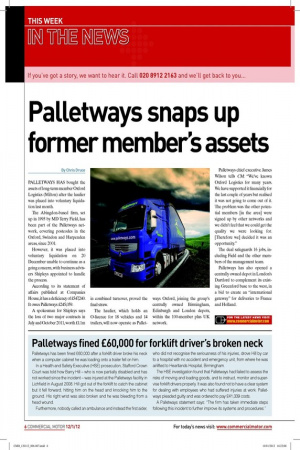 Page 5, 12th January 2012 —
Palletways fined £60,000 for forklift driver's broken neck
Close
Palletways has been fined £60,000 after a forklift driver broke his neck when a computer cabinet he was loading onto a trailer fell on him.
In a Health and Safety Executive (HSE) prosecution, Stafford Crown Court was told how Barry Hill – who is now partially disabled and has not worked since the incident – was injured at the Palletways facility in Lichfield in August 2008. Hill got out of the forklift to catch the cabinet but it fell forward, hitting him on the head and knocking him to the ground. His right wrist was also broken and he was bleeding from a head wound.
Furthermore, nobody called an ambulance and instead the first aider, who did not recognise the seriousness of his injuries, drove Hill by car to a hospital with no accident and emergency unit, from where he was airlifted to Heartlands Hospital, Birmingham.
The HSE investigation found that Palletways had failed to assess the risks of moving and loading goods, and to instruct, monitor and supervise forklift drivers properly. It was also found not to have a clear system for dealing with employees who had suffered injuries at work. Palletways pleaded guilty and was ordered to pay £41,339 costs.
A Palletways statement says: "The firm has taken immediate steps following this incident to further improve its systems and procedures."