Smot Smot
12th January 2012
Page 39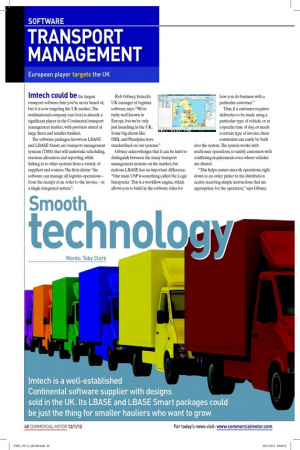 Page 40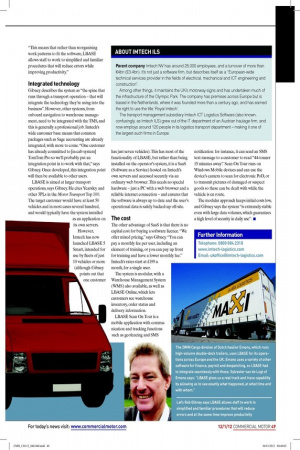 Page 39, 12th January 2012 —
Smot Smot
Close
Keywords :
Management
,
Business
,
Logistics
,
Computing
,
Supply Chain Management
,
Cloud Applications
,
Transportation Management System
,
Software As A Service
,
Application Software
,
Technology / Internet
,
Business / Finance
teohnolo
SOFTWARE
TRANSPORT MANAGEMENT
European player targets the UK
Imtech could be the largest transport software irm you've never heard of, but it is now targeting the UK market. The multinational company (see box) is already a signiicant player in the Continental transport management market, with products aimed at large leets and smaller hauliers.
The software packages, known as LBASE and LBASE Smart, are transport management systems (TMS) that will undertake scheduling, resource allocation and reporting, while linking in to other systems from a variety of suppliers and sources. The irm claims "the software can manage all logistics operations – from the receipt of an order to the invoice – in a single integrated system". Rob Gibney, Imtech's UK manager of logistics software, says: "We're fairly well known in Europe, but we're only just launching in the UK. Some big clients like DHL and Panalpina have standardised on our systems." Gibney acknowledges that it can be hard to distinguish between the many transport management systems on the market, but reckons LBASE has an important difference. "Our main USP is something called the Logic Interpreter. This is a worklow engine, which allows you to build in the software rules for how you do business with a particular customer." Thus, if a customer requires deliveries to be made using a particular type of vehicle, or at a speciic time of day, or needs a certain type of invoice, these constraints can easily be built into the system. The system works with multi-user operations, to satisfy customers with conlicting requirements even where vehicles are shared.
"This helps ensure smooth operations, right down to an order picker in the distribution centre receiving simple instructions that are appropriate for the operation," says Gibney. "This means that rather than reorganising work patterns to it the software, LBASE allows staff to work to simpliied and familiar procedures that will reduce errors while improving productivity."
Integrated technology
Gibney describes the system as "the spine that runs through a transport operation – that will integrate the technology they're using into the business". However, other systems, from onboard navigation to warehouse management, need to be integrated with the TMS, and this is generally a professional job. Imtech's wide customer base means that common packages such as Sage accounting are already integrated, with more to come. "One customer has already committed to [in-cab system] TomTom Pro so we'll probably put an integration point in to work with that," says Gibney. Once developed, this integration point will then be available to other users.
LBASE is aimed at larger transport operations, says Gibney. He cites Yearsley and other 3PLs in the Motor Transport Top 100. The target customer would have at least 50 vehicles and in most cases several hundred, and would typically have the system installed as an application on its own servers.
However, Imtech has now launched LBASE 5 Smart, intended for use by leets of just 10 vehicles or more (although Gibney points out that one customer has just seven vehicles). This has most of the functionality of LBASE, but rather than being installed on the operator's system, it is a SaaS (Software as a Service) hosted on Imtech's own servers and accessed securely via an ordinary web browser. This needs no special hardware – just a PC with a web browser and a reliable internet connection – and ensures that the software is always up to date and the user's operational data is safely backed-up off-site.
The cost
The other advantage of SaaS is that there is no capital cost for buying a software licence. "We offer mixed pricing," says Gibney. "You can pay a monthly fee per user, including an element of training, or you can pay up front for training and have a lower monthly fee." Imtech's rates start at £199 a month, for a single user.
The system is modular, with a Warehouse Management System (WMS) also available, as well as LBASE Online, which lets customers see warehouse inventory, order status and delivery information.
LBASE Scan On Tour is a mobile application with commu nication and tracking functions such as geofencing and SMS notiication: for instance, it can send an SMS text message to a customer to read "44-tonner 15 minutes away". Scan On Tour runs on Windows Mobile devices and can use the device's camera to scan for electronic PoD, or to transmit pictures of damaged or suspect goods so these can be dealt with while the vehicle is en route.
The modular approach keeps initial costs low, and Gibney says the system "is extremely stable even with large data volumes, which guarantees a high level of security in daily use" . ■
ABOUT IMTECH ILS
Parent company Imtech NV has around 25,000 employees, and a turnover of more than €4bn (£3.4bn). It's not just a software firm, but describes itself as a "European-wide technical services provider in the fields of electrical, mechanical and ICT engineering and construction".
Among other things, it maintains the UK's motorway signs and has undertaken much of the infrastructure of the Olympic Park. The company has premises across Europe but is based in the Netherlands, where it was founded more than a century ago, and has earned the right to use the title 'Royal Imtech'.
The transport management subsidiary Imtech ICT Logistics Software (also known, confusingly, as Imtech ILS) grew out of the IT department of an Austrian haulage firm, and now employs around 120 people in its logistics transport department – making it one of the largest such firms in Europe.
Further Information
Telephone: 0800 084 2318 www.imtech-logistics.com Email: ukoffice@imtech-logistics.com
The 2WIN Cargo division of Dutch haulier Emons, which runs high-volume double-deck trailers, uses LBASE for its operations across Europe and the UK. Emons uses a variety of other software for finance, payroll and despatching, so LBASE had to integrate seamlessly with these. Sylvester van de Logt of Emons says: "LBASE gives us a real track and trace capability by allowing us to see exactly what happened, at what time and with whom." Left: Rob Gibney says LBASE allows staff to work to simplified and familiar procedures that will reduce errors and at the same time improve productivity