Hybrid tees
12th January 2012
Page 36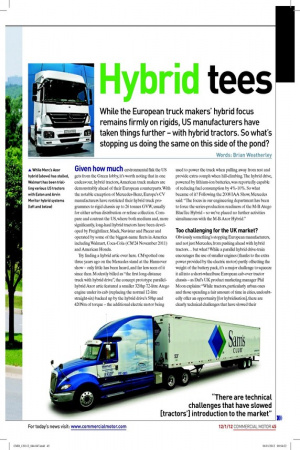 Page 37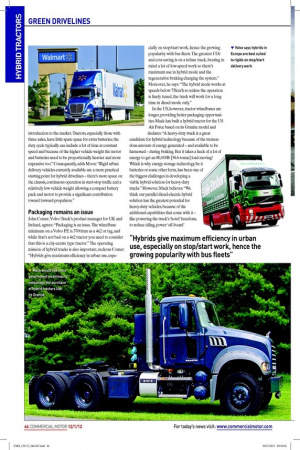 Page 38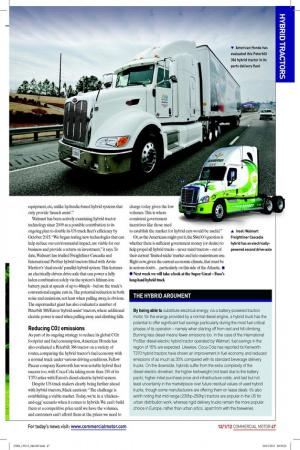 Page 36, 12th January 2012 —
Hybrid tees
Close
Keywords :
Transport
,
Technology
,
Green Vehicles
,
Engines
,
Electric Vehicles
,
Trucks
,
Hybrid Vehicle
,
Hybrid Electric Vehicle
,
Diesel-electric Transmission
,
Ford Motor Company
,
Mercedes-benz Axor
,
Hybrid Vehicle Drivetrain
,
Environment
,
Technology / Internet
,
Business / Finance
While the European truck makers' hybrid focus remains firmly on rigids, US manufacturers have taken things further – with hybrid tractors. So what's stopping us doing the same on this side of the pond?
Words: Brian Weatherley
Given how much environmental lak the US gets from the Green lobby, it's worth noting that in one endeavour, hybrid tractors, American truck makers are demonstrably ahead of their European counterparts. With the notable exception of Mercedes-Benz, Europe's CV manufacturers have restricted their hybrid truck programmes to rigid chassis up to 26 tonnes GVW, usually for either urban distribution or refuse collection. Compare and contrast the US, where both medium and, more signiicantly, long-haul hybrid tractors have been developed by Freightliner, Mack, Navistar and Paccar and operated by some of the biggest-name leets in America including Walmart, Coca-Cola (CM 24 November 2011) and American Honda.
Try inding a hybrid artic over here. CM spotted one three years ago on the Mercedes stand at the Hannover show – only little has been heard, and far less seen of it since then. Modestly billed as "the irst long-distance truck with hybrid drive" , the concept prototype parallelhybrid Axor artic featured a smaller 320hp 7.2-litre Atego engine under its cab (replacing the normal 12-litre straight-six) backed up by the hybrid drive's 59hp and 420Nm of torque – the additional electric motor being used to power the truck when pulling away from rest and provide extra oomph when hill-climbing. The hybrid drive, powered by lithium-ion batteries, was reportedly capable of reducing fuel consumption by 4%-10%. So what became of it? Following the 2008 IAA Show, Mercedes said: "The focus in our engineering department has been to force the series-production readiness of the M-B Atego BlueTec Hybrid – so we've placed no further activities simultaneous with the M-B Axor Hybrid."
Too challenging for the UK market?
Obviously something's stopping European manufacturers, and not just Mercedes, from pushing ahead with hybrid tractors... but what? While a parallel hybrid drive-train encourages the use of smaller engines (thanks to the extra power provided by the electric motor) partly offsetting the weight of the battery pack, it's a major challenge to squeeze it all into a short-wheelbase European cab-over tractor chassis – as Daf's UK product marketing manager Phil Moon explains: "While tractors, particularly urban ones and those spending a fair amount of time in cities, undoubtedly offer an opportunity [for hybridisation], there are clearly technical challenges that have slowed their introduction to the market. Tractors, especially those with three axles, have little spare space for extra batteries; the duty cycle typically can include a lot of time at constant speed and because of the higher vehicle weight the motor and batteries need to be proportionally heavier and more expensive too." Consequently, adds Moon: "Rigid urban delivery vehicles currently available are a more practical starting point for hybrid drivelines – there's more space on the chassis, continuous operation in start-stop trafic and a relatively low vehicle weight allowing a compact battery pack and motor to provide a signiicant contribution toward forward propulsion."
Packaging remains an issue
John Comer, Volvo Truck's product manager for UK and Ireland, agrees: "Packaging is an issue. The wheelbase minimum on a Volvo FE is 3700mm as a 4x2 or tag, and while that's not bad on a 4x2 tractor you need to consider that this is a city-centre type tractor." The operating mission of hybrid trucks is also important, reckons Comer: "Hybrids give maximum eficiency in urban use, espe
cially on stop/start work, hence the growing popularity with bus leets. The greatest CO2 and cost-saving is on a refuse truck, bearing in mind a lot of low-speed work so there's maximum use in hybrid mode and the regenerative braking charging the system." Moreover, he says: "The hybrid mode works at speeds below 75km/h so unless the operation is inely tuned, the truck will work for a long time in diesel-mode only."
In the US, however, tractor wheelbases are longer, providing better packaging opportunities. Mack has built a hybrid tractor for the US Air Force based on its Granite model and declares: "A heavy-duty truck is a great candidate for hybrid technology because of the tremendous amount of energy generated – and available to be harnessed – during braking. But it takes a heck of a lot of energy to get an 80,000lb [36.6-tonne] load moving! Which is why energy storage technology, be it batteries or some other form, has been one of the biggest challenges in developing a viable hybrid solution for heavy-duty trucks." However, Mack believes: "We think our parallel diesel-electric hybrid solution has the greatest potential for heavy-duty vehicles, because of the additional capabilities that come with it – like powering the truck's 'hotel' functions, to reduce idling, power 'off-board' equipment, etc, unlike hydraulic-based hybrid systems that only provide 'launch assist' . " Walmart has been actively examining hybrid tractor technology since 2009 as a possible contribution to its ongoing plan to double its US truck leet's eficiency by October 2015. "We began testing new technologies that can help reduce our environmental impact, are viable for our business and provide a return on investment," it says. To date, Walmart has trialled Freightliner Cascadia and International ProStar hybrid tractors itted with ArvinMeritor's 'dual-mode' parallel-hybrid system. This features an electrically-driven drive-axle that can power a fully laden combination solely via the system's lithium-ion battery pack at speeds of up to 48mph – before the truck's conventional engine cuts in. The potential reduction in both noise and emissions, not least when pulling away, is obvious. The supermarket giant has also evaluated a number of Peterbilt 386/Eaton 'hybrid-assist' tractors, where additional electric power is used when pulling away and climbing hills.
Reducing CO2 emissions As part of its ongoing strategy to reduce its global CO2 footprint and fuel consumption, American Honda has also evaluated a Peterbilt 386 tractor on a variety of routes, comparing the hybrid tractor's fuel economy with a normal truck under various driving conditions. Fellow Paccar company Kenworth has won notable hybrid leet success too, with Coca-Cola taking more than 150 of its T370 artics with Eaton's diesel-electric hybrid system.
Despite US truck makers clearly being further ahead with hybrid tractors, Mack cautions: "The challenge is establishing a viable market. Today, we're in a 'chickenand-egg' scenario when it comes to hybrids. We can't build them at a competitive price until we have the volumes, and customers can't afford them at the prices we need to charge today given the low volumes. This is where consistent government incentives like those used to establish the market for hybrid cars would be useful."
Or, as the Americans might put it, the $64,000 question is whether there is suficient government money (or desire) to help propel all hybrid trucks – never mind tractors – out of their current 'limited-niche' market and into mainstream use. Right now, given the current economic climate, that must be in serious doubt... particularly on this side of the Atlantic. ■
• Next week we will take a look at the Super Great – Fuso's long-haul hybrid truck
THE HYBRID ARGUMENT
By being able to substitute electrical energy, via a battery-powered traction motor, for the energy provided by a normal diesel engine, a hybrid truck has the potential to offer significant fuel savings particularly during the most fuel-critical phases of its operation – namely when starting off from rest and hill-climbing. Burning less diesel means fewer emissions too. In the case of the International ProStar diesel-electric hybrid tractor operated by Walmart, fuel savings in the region of 15% are expected. Likewise, Coca-Cola has reported its Kenworth T370 hybrid tractors have shown an improvement in fuel economy and reduced emissions of as much as 30% compared with its standard beverage delivery trucks. On the downside, hybrids suffer from the extra complexity of the diesel-electric drivetrain, the higher kerbweight (not least due to the battery pack), higher initial purchase price and infrastructure costs, and last but not least uncertainty in the marketplace over future residual values of used hybrid trucks, though some manufacturers are offering them on lease deals. It's also worth noting that mid-range (230hp-250hp) tractors are popular in the US for urban distribution work, whereas rigid delivery trucks remain the more popular choice in Europe, rather than urban artics, apart from with the breweries.