ar isdeclared
12th January 2012
Page 28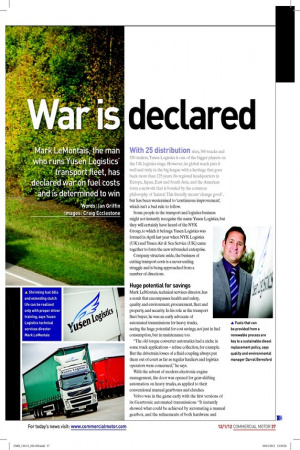 Page 29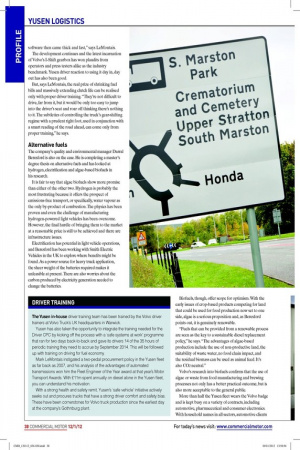 Page 30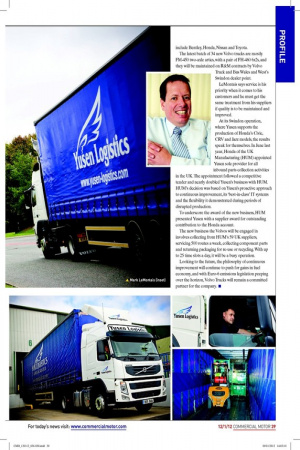 Page 28, 12th January 2012 —
ar isdeclared
Close
Keywords :
Transport
,
Technology
,
Sustainability
,
Emerging Technologies
,
Fuels
,
Volvo
,
Hisingen
,
Green Vehicles
,
Volvo Trucks
,
Truck
,
Honda
,
Alternative Fuel
Mark LeMontais, the man who runs Yusen Logistics' transport fleet, has declared war on fuel costs and is determined to win
Words: Ian Griffin Images: Craig Ecclestone With 25 distribution sites, 360 trucks and 550 trailers, Yusen Logistics is one of the bigger players on the UK logistics stage. However, its global reach puts it well and truly in the big league with a heritage that goes back more than 125 years. Its regional headquarters in Europe, Japan, East and South Asia, and the Americas form a network that is bonded by the common philosophy of 'kaizen'. This literally means 'change good', but has been westernised to 'continuous improvement', which isn't a bad rule to follow.
Some people in the transport and logistics business might not instantly recognise the name Yusen Logistics, but they will certainly have heard of the NYK Group, to which it belongs. Yusen Logistics was formed in April last year when NYK Logistics (UK) and Yusen Air & Sea Service (UK) came together to form the new rebranded enterprise.
Company structure aside, the business of cutting transport costs is a never-ending struggle and is being approached from a number of directions.
Huge potential for savings
Mark LeMontais, technical services director, has a remit that encompasses health and safety, quality and environment, procurement, leet and property, and security. In his role as the transport leet buyer, he was an early advocate of automated transmissions for heavy trucks, seeing the huge potential for cost savings, not just in fuel consumption, but in maintenance too.
"The old torque converter automatics had a niche in some truck applications – refuse collection, for example. But the drivetrain losses of a luid coupling always put them out of court as far as regular hauliers and logistics operators were concerned," he says.
With the advent of modern electronic engine management, the door was opened for gear-shifting automation on heavy trucks, as applied to their conventional manual gearboxes and clutches.
Volvo was in the game early with the irst versions of its Geartronic automated transmissions. "It instantly showed what could be achieved by automating a manual gearbox, and the reinements of both hardware and software then came thick and fast," says LeMontais.
The development continues and the latest incarnation of Volvo's I-Shift gearbox has won plaudits from operators and press testers alike as the industry benchmark. Yusen driver reaction to using it day in, day out has also been good.
But, says LeMontais, the real prize of shrinking fuel bills and massively extending clutch life can be realised only with proper driver training. "They're not dificult to drive, far from it, but it would be only too easy to jump into the driver's seat and roar off thinking there's nothing to it. The subtleties of controlling the truck's gear-shifting regime with a prudent right foot, used in conjunction with a smart reading of the road ahead, can come only from proper training," he says.
Alternative fuels
The company's quality and environmental manager Darral Beresford is also on the case. He is completing a master's degree thesis on alternative fuels and has looked at hydrogen, electriication and algae-based biofuels in his research.
It is fair to say that algae biofuels show more promise than either of the other two. Hydrogen is probably the most frustrating because it offers the prospect of emissions-free transport, or speciically, water vapour as the only by-product of combustion. The physics has been proven and even the challenge of manufacturing hydrogen-powered light vehicles has been overcome. However, the inal hurdle of bringing them to the market at a reasonable price is still to be achieved and there are infrastructure issues.
Electriication has potential in light vehicle operations, and Beresford has been working with Smith Electric Vehicles in the UK to explore where beneits might be found. As a power source for heavy truck application, the sheer weight of the batteries required makes it unfeasible at present. There are also worries about the carbon produced by electricity generation needed to change the batteries. Biofuels, though, offer scope for optimism. With the early issues of crop-based products competing for land that could be used for food production now set to one side, algae is a serious proposition and, as Beresford points out, it is genuinely renewable.
"Fuels that can be provided from a renewable process are seen as the key to a sustainable diesel replacement policy," he says. "The advantages of algae-based production include the use of non-productive land, the suitability of waste water, no food chain impact, and the residual biomass can be used as animal feed. It's also CO2 neutral."
Volvo's research into biofuels conirms that the use of algae or waste from food manufacturing and brewing processes not only has a better practical outcome, but is also more acceptable to the general public.
More than half the Yusen leet wears the Volvo badge and is kept busy on a variety of contracts, including automotive, pharmaceutical and consumer electronics. With household names in all sectors, automotive clients include Bentley, Honda, Nissan and Toyota.
The latest batch of 34 new Volvo trucks are mostly FM-450 two-axle artics, with a pair of FH-460 6x2s, and they will be maintained on R&M contracts by Volvo Truck and Bus Wales and West's Swindon dealer point.
LeMontais says service is his priority when it comes to his customers and he must get the same treatment from his suppliers if quality is to be maintained and improved.
At its Swindon operation, where Yusen supports the production of Honda's Civic, CRV and Jazz models, the results speak for themselves. In June last year, Honda of the UK Manufacturing (HUM) appointed Yusen sole provider for all inbound parts collection activities in the UK. The appointment followed a competitive tender and nearly doubled Yusen's business with HUM.
HUM's decision was based on Yusen's proactive approach to continuous improvement, its 'best-in-class' IT systems and the lexibility it demonstrated during periods of disrupted production.
To underscore the award of the new business, HUM presented Yusen with a supplier award for outstanding contribution to the Honda account.
The new business the Volvos will be engaged in involves collecting from HUM's 59 UK suppliers, servicing 500 routes a week, collecting component parts and returning packaging for re-use or recycling. With up to 25 time slots a day, it will be a busy operation.
Looking to the future, the philosophy of continuous improvement will continue to push for gains in fuel economy, and with Euro-6 emissions legislation peeping over the horizon, Volvo Trucks will remain a committed partner for the company. n
DRIVER TRAINING
The Yusen in-house driver training team has been trained by the Volvo driver trainers at Volvo Truck's UK headquarters in Warwick.
Yusen has also taken the opportunity to integrate the training needed for the Driver CPC by kicking off the process with a 'safe systems at work' programme that ran for two days back-to-back and gave its drivers 14 of the 35 hours of periodic training they need to accrue by September 2014. This will be followed up with training on driving for fuel economy.
Mark LeMontais instigated a two-pedal procurement policy in the Yusen fleet as far back as 2007, and his analysis of the advantages of automated transmissions won him the Fleet Engineer of the Year award at that year's Motor Transport Awards. With £11m spent annually on diesel alone in the Yusen fleet, you can understand his motivation.
With a strong health and safety remit, Yusen's 'safe vehicle' initiative actively seeks out and procures trucks that have a strong driver comfort and safety bias. These have been cornerstones for Volvo truck production since the earliest day at the company's Gothnburg plant.