Highway 'robbery'
12th January 2012
Page 2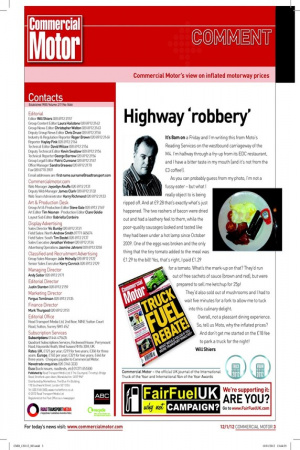 Page 2, 12th January 2012 —
Highway 'robbery'
Close
It's 8am on a Friday and I'm writing this from Moto's
Reading Services on the westbound carriageway of the M4. I'm halfway through a fry-up from its EDC restaurant, and I have a bitter taste in my mouth (and it's not from the £3 coffee!).
As you can probably guess from my photo, I'm not a fussy eater – but what I really object to is being ripped off. And at £9.28 that's exactly what's just happened. The two rashers of bacon were dried out and had a leathery feel to them, while the poor-quality sausages looked and tasted like they had been under a hot lamp since October 2009. One of the eggs was broken and the only thing that the tiny tomato added to the meal was £1.29 to the bill! Yes, that's right, I paid £1.29 for a tomato. What's the mark-up on that? They'd run out of free sachets of sauce (brown and red), but were prepared to sell me ketchup for 25p!
They'd also sold out of mushrooms and I had to wait five minutes for a fork to allow me to tuck into this culinary delight.
Overall, not a pleasant dining experience.
So, tell us Moto, why the inflated prices?
And don't get me started on the £18 fee to park a truck for the night!
Will Shiers