Remember that it's different in Scotland....
12th January 2012
Page 15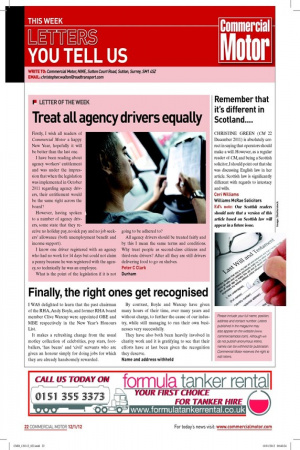 Page 15, 12th January 2012 —
Remember that it's different in Scotland....
Close
CHRISTINE GREEN (CM 22 December 2011) is absolutely correct in saying that operators should make a will. However, as a regular reader of CM, and being a Scottish solicitor, I should point out that she was discussing English law in her article. Scottish law is signiicantly different with regards to intestacy and wills.
Ceri Williams Williams McRae Solicitors Ed's note: Our Scottish readers should note that a version of this article based on Scottish law will appear in a future issue.
Please include your full name, position, address and contact number. Letters published in the magazine may also appear on the website (www. commercialmotor.com). Although we do not publish anonymous letters, names can be withheld for publication. Commercial Motor reserves the right to edit letters.