Credit where credit's due
12th January 2012
Page 13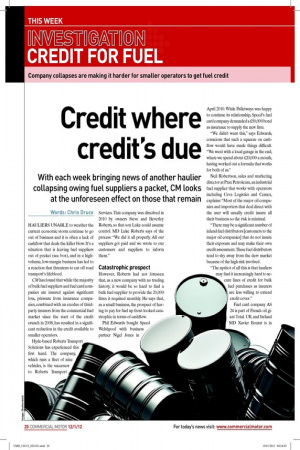 Page 14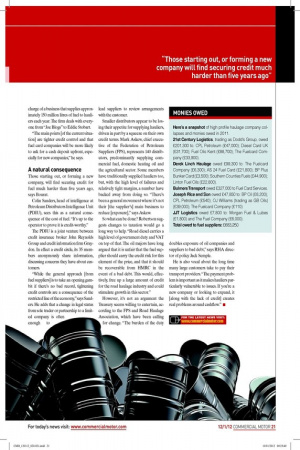 Page 13, 12th January 2012 —
Credit where credit's due
Close
With each week bringing news of another haulier collapsing owing fuel suppliers a packet, CM looks at the unforeseen effect on those that remain
Words: Chris Druce
HAULIERS UNABLE to weather the current economic storm continue to go out of business and it is often a lack of cashlow that deals the killer blow. It's a situation that is leaving fuel suppliers out of pocket (see box), and in a highvolume, low-margin business has led to a reaction that threatens to cut off road transport's lifeblood.
CM has found that while the majority of bulk fuel suppliers and fuel card companies are insured against signiicant loss, pressure from insurance companies, combined with an exodus of thirdparty insurers from the commercial fuel market since the start of the credit crunch in 2008, has resulted in a signiicant reduction in the credit available to smaller operators.
Hyde-based Roberts Transport Solutions has experienced this irst hand. The company, which runs a leet of nine vehicles, is the successor to Roberts Transport Services. That company was dissolved in 2010 by owners Steve and Beverley Roberts, so that son Luke could assume control. MD Luke Roberts says of the process: "We did it all properly. All our suppliers got paid and we wrote to our customers and suppliers to inform them."
Catastrophic prospect
However, Roberts had not foreseen that, as a new company with no trading history, it would be so hard to ind a bulk fuel supplier to provide the 20,000 litres it required monthly. He says that, as a small business, the prospect of having to pay for fuel up front looked catastrophic in terms of cashlow.
Phil Edwards bought Speed Welshpool with business partner Nigel Jones in April 2010. While Palletways was happy to continue its relationship, Speed's fuel card company demanded a £50,000 bond as insurance to supply the new irm.
"We didn't want this," says Edwards, conscious that such a squeeze on cashlow would have made things dificult. "We went with a local garage in the end, where we spend about £20,000 a month, having worked out a formula that works for both of us." Neil Robertson, sales and marketing director at Prax Petroleum, an industrial fuel supplier that works with operators including Ceva Logistics and Cemex, explains: "Most of the major oil companies and importers that deal direct with the user will usually credit insure all their business so the risk is minimal.
"There may be a signiicant number of inland fuel distributors [customers to the major oil companies] that do not insure their exposure and may make their own credit assessment. These fuel distributors tend to shy away from the derv market because of the high risk involved.
"The upshot of all this is that hauliers may ind it increasingly hard to secure lines of credit for bulk fuel purchases as insurers are less willing to extend credit cover." Fuel card company AS 24 is part of French oil giant Total. UK and Ireland MD Xavier Bourat is in charge of a business that supplies approximately 150 million litres of fuel to hauliers each year. The irm deals with everyone from "Joe Blogs" to Eddie Stobart.
"The main points [of the current situation] are tighter credit control and that fuel card companies will be more likely to ask for a cash deposit upfront, especially for new companies," he says.
A natural consequence
Those starting out, or forming a new company, will ind securing credit for fuel much harder than ive years ago, says Bourat.
Colin Sanders, head of intelligence at Petroleum Distributors Intelligence Unit (PDIU), sees this as a natural consequence of the cost of fuel. "It's up to the operator to prove it is credit-worthy." The PDIU is a joint venture between credit insurance broker John Reynolds Group and credit information irm Graydon. In effect a credit circle, its 35 members anonymously share information, discussing concerns they have about customers.
"While the general approach [from fuel suppliers] is to take an opening gambit if there's no bad record, tightening credit controls are a consequence of the restricted line of the economy," says Sanders. He adds that a change in legal status from sole trader or partnership to a limited company is often enough to lead suppliers to review arrangements with the customer.
Smaller distributors appear to be losing their appetite for supplying hauliers, driven in part by a squeeze on their own credit terms. Mark Askew, chief executive of the Federation of Petroleum Suppliers (FPS), represents 140 distributors, predominantly supplying commercial fuel, domestic heating oil and the agricultural sector. Some members have traditionally supplied hauliers too, but, with the high level of failures and relatively tight margins, a number have backed away from doing so. "There's been a general movement where it's not their [the supplier's] main business to reduce [exposure]," says Askew.
So what can be done? Robertson suggests changes to taxation would go a long way to help. "Road diesel carries a high level of government duty and VAT on top of that. The oil majors have long argued that it is unfair that the fuel supplier should carry the credit risk for this element of the price, and that it should be recoverable from HMRC in the event of a bad debt. This would, effectively, free up a large amount of credit for the road haulage industry and could stimulate growth in this sector." However, it's not an argument the Treasury seems willing to entertain, according to the FPS and Road Haulage Association, which have been calling for change. "The burden of the duty doubles exposure of oil companies and suppliers to bad debt," says RHA director of policy Jack Semple.
He is also vocal about the long time many large customers take to pay their transport providers. "The payment problem is important as it makes hauliers particularly vulnerable to issues. If you're a new company or looking to expand, it [along with the lack of credit] creates real problems around cashfiow." ■
MONIES OWED
Here's a snapshot of high profile haulage company collapses and monies owed in 2011.
21st Century Logistics, trading as Dodd's Group, owed £201,300 to: CPL Petroleum (£47,000); Diesel Card UK (£31,700); Fuel Oils Kent (£88,700); The Fuelcard Company (£33,900).
Derek Linch Haulage owed £99,300 to: The Fuelcard Company (£6,300); AS 24 Fuel Card (£21,800); BP Plus Bunker Card (£3,500); Southern Counties Fuels (£44,900); Linton Fuel Oils (£22,800).
Bulmers Transport owed £327,000 to Fuel Card Services. Joseph Rice and Son owed £47,850 to: BP Oil (£8,200); CPL Petroleum (£540); OJ Williams (trading as GB Oils) (£39,000); The Fuelcard Company (£110) JJT Logistics owed £7,800 to: Morgan Fuel & Lubes (£1,800) and The Fuel Company (£6,000).
Total owed to fuel suppliers: £683,250
Tags
People
:
Steve Roberts
,
Mark Askew
,
Beverley Roberts
,
Morgan Fuel
,
Eddie Stobart
,
Derek Linch Haulage
,
Jack Semple
,
Phil Edwards
,
Luke Roberts
,
Chris Druce
,
Xavier Bourat
,
Nigel Jones
,
Colin Sanders