THIS WEEK
12th January 2012
Page 11
Page 12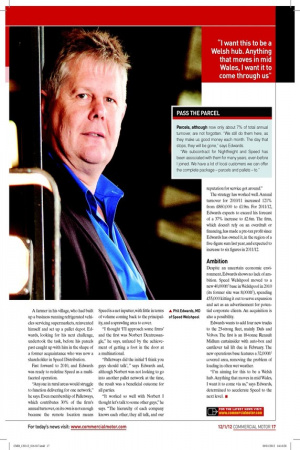 Page 11, 12th January 2012 —
THIS WEEK
Close
PHIL EDWARDS
MD, Speed Welshpool
Getting up to Speed
A parcels firm in rural Wales has reinvented itself working with some of the sector's biggest names
Words: Chris Druce / Images: Tom Cunningham
PHIL EDWARDS HAS wasted no time in transforming the aptly named Speed Welshpool since he bought it in April 2010 with business partner Nigel Jones. Brought in as the business development manager in 2007 and charged by the then owners with sorting it out, he found a irm that, since starting life in 2000 as Speed Distribution, had been squeezed by consolidation in the parcels sector.
"They were doing jobs too cheaply, the depots [in Cornwall, Camarthen and Welshpool] were being badly managed, and there was a lack of cash low in the business," he says.
To their credit, the owners, who had a range of business interests, realised this and gave Edwards free rein to get stuck in and make changes, which he did. One of his irst actions was to close Camarthen and a year later Speed had joined its irst pallet network, Palletways (covering the LB and SY postcodes).
"I took it from a whopping loss to break even, and it got to the stage where you've got to put investment in in the form of new vehicles, ofices and the image [of the company]," says Edwards.
However, having reached this point Speed's owners were unwilling to front more money, so Edwards gave them an ultimatum: shut it down or ind yourselves a new manager. He then added: "or sell it to me". To his surprise, they did, and as of April 2010 the second phase of Speed's reinvention began.
Seeing no long-term future in parcels, Edwards has transformed the business, undertaking contract distribution work for household names including Norbert Dentressangle, TDG (before its acquisition by the former), Palletways, United Pallet Network, Freight Route and Rhys Davies (the latest to sign up in June last year). Although pinning your colours to the masts of others in a bid to expand might seem leftield given the pressure on margins, Edwards' vision is informed by his past and the unique challenges of rural Wales.
Worcestershire-born Edwards is a former member of the Army's Royal Corps of Transport and left the service in the early 1980s with an HGV licence. He became a man-with-a-van for hire, before joining Woods Insulation as transport manager. However, the desire to be his own boss proved too much and he set himself up in the parcels business running OTS, operating as a subbie for groups now long gone. The business expanded to 10 vans with depots in Leominster and Tewkesbury and now has an annual turnover of £1.6m.
But with pressure mounting in parcels – "perhaps even more so than today" – and his marriage breaking up, Edwards decided to get out, buying the Herbert Arms pub in Chirbury, Shropshire. He describes running it as a lot of fun but, with declining revenue in the licensed trade and the smoking ban looming, he decided to sell in 2004. A farmer in his village, who had built up a business running refrigerated vehicles servicing supermarkets, reinvented himself and set up a pallet depot. Edwards, looking for his next challenge, undertook the task, before his parcels past caught up with him in the shape of a former acquaintance who was now a shareholder in Speed Distribution.
Fast forward to 2010, and Edwards was ready to redeine Speed as a multifaceted operation.
"Anyone in rural areas would struggle to function delivering for one network," he says. Even membership of Palletways, which contributes 30% of the irm's annual turnover, on its own is not enough because the remote location means Speed is a net inputter, with little in terms of volume coming back to the principality, and a sprawling area to cover.
"I thought 'I'll approach some irms' and the irst was Norbert Dentressangle," he says, unfazed by the achievement of getting a foot in the door at a multinational.
"Palletways did the initial 'I think you guys should talk', " says Edwards and, although Norbert was not looking to go into another pallet network at the time, the result was a beneicial outcome for all parties.
"It worked so well with Norbert I thought let's talk to some other guys ," he says. "The hierarchy of each company knows each other, they all talk, and our reputation for service got around." The strategy has worked well. Annual turnover for 2010/11 increased 121% from £860,000 to £1.9m. For 2011/12, Edwards expects to exceed his forecast of a 37% increase to £2.6m. The irm, which doesn't rely on an overdraft or inancing, has made a pre-tax proit since Edwards has owned it, in the region of a ive-igure sum last year, and expected to increase to six igures in 2011/12.
Ambition
Despite an uncertain economic environment, Edwards shows no lack of ambition. Speed Welshpool moved to a new 40,000ft2 base in Welshpool in 2010 (its former site was 8,000ft2), spending £55,000 kitting it out to serve expansion and act as an advertisement for potential corporate clients. An acquisition is also a possibility.
Edwards wants to add four new trucks to the 25-strong leet, mainly Dafs and Volvos. The irst is an 18-tonne Renault Nfidlum curtainsider with auto-box and cantilever tail lift due in February. The new operations base features a 32,000ft2 covered area, removing the problem of loading in often wet weather.
"I'm aiming for this to be a Welsh hub. Anything that moves in mid Wales, I want it to come via us," says Edwards, determined to accelerate Speed to the next level. n
TRANSPIRE
Handling so many corporate accounts demands a high level of organisation to deliver the customer service upon which the company has built its reputation. "The biggest problem we have is paper. When we were routeing six or seven corporates they all had different paperwork," says MD Phil Edwards. This is where his son George, who has lived and breathed the business and is studying computer games development at Cardiff Univeristy, comes in. George created bespoke system Transpire – in effect automatically generating routeing plans from corporate customers' orders, which went live last summer.
PASS THE PARCEL
Parcels, although now only about 7% of total annual turnover, are not forgotten. "We still do them here, as they make us good money each month. The day that stops, they will be gone," says Edwards.
"We subcontract for Nightfreight and Speed has been associated with them for many years, even before I joined. We have a lot of local customers we can offer the complete package – parcels and pallets – to."