Email alert solves Stack dilemma
12th January 2012
Page 10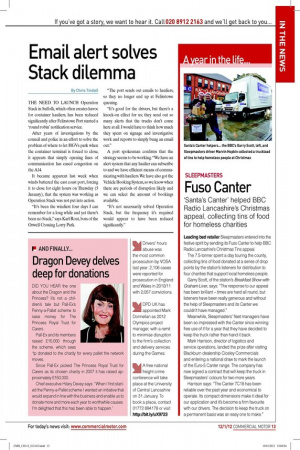 Page 10, 12th January 2012 —
Email alert solves Stack dilemma
Close
Keywords :
Counties Of England
,
Kent
,
Geography Of England
,
Abstract Data Types
,
Container Terminals
,
Dover
,
Operation Stack
,
Shepway
,
Transport In Ashford, Kent
,
Stack
,
Felixstowe
,
Containerization
By Chris Tindall THE NEED TO LAUNCH Operation Stack in Suffolk, which often creates havoc for container hauliers, has been reduced signiicantly after Felixstowe Port started a 'round robin' notiication service.
After years of investigations by the council and police in an effort to solve the problem of where to let HGVs park when the container terminal is forced to close, it appears that simply opening lines of communication has eased congestion on the A14.
It became apparent last week when winds battered the east coast port, forcing it to close for eight hours on Thursday (5 January), that the system was working as Operation Stack was not put into action.
"It's been the windiest four days I can remember for a long while and yet there's been no Stack," says Karl Rout, boss of the Orwell Crossing Lorry Park. "The port sends out emails to hauliers, so they no longer end up at Felixstowe queuing.
"It's good for the drivers, but there's a knock-on effect for us; they send out so many alerts that the trucks don't come here at all. I would hate to think how much they spent on signage and investigative work and reports to simply bung an email out." A port spokesman conirms that the strategy seems to be working. "We have an alert system that any haulier can subscribe to and we have eficient means of communicating with hauliers. We have also got the Vehicle Booking System, so we know when there are periods of disruption likely and we can select the amount of bookings available.
"It's not necessarily solved Operation Stack, but the frequency it's required would appear to have been reduced signiicantly."