Irish fear invasion
12th January 1985
Page 7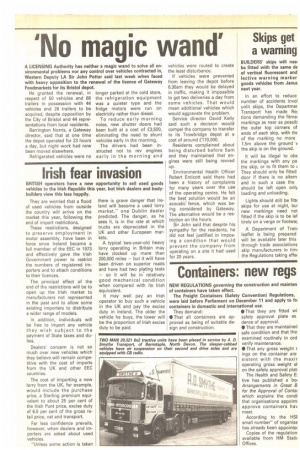 Page 7, 12th January 1985 —
Irish fear invasion
Close
BRITISH operators have a new opportunity to sell used goods vehicles to the Irish Republic this year, but Irish dealers and bodybuilders view this less happily.
They are worried that a flood of used vehicles from outside the country will arrive on the market this year, following the end of import restrictions.
These restrictions, designed to preserve employment in motor assembly, have been in force since Ireland became a full member of the EEC in 1973 and effectively gave the Irish Government power to restrict the numbers of registered importers and to attach conditions to their licences.
The principal effect of the end of the restrictions will be to open up the Irish market to manufacturers not represented in the past and to allow some existing importers to distribute a wider range of models.
In addition, individuals will be free to import any vehicle they wish subject to the payment of State taxes and duties.
Dealers' concern is not so much over new vehicles which they believe will remain competitive with the cost of imports from the UK and other EEC countries.
The cost of importing a new lorry from the UK, for example, would include the purchase price, a Sterling premium equivalent to about 25 per cent of the Irish Punt price, excise duty of 6.5 per cent of the gross retail price, vat and transport.
Far less confidence prevails, however, when dealers and importers are asked about used vehicles.
"Unless some action is taken there is grave danger that Ireland will become a used lorry market," one Dublin dealer predicted. The danger, as he sees it, is in the rate at which trucks are depreciated in the UK and other European markets.
A typical two-year-old heavy lorry operating in Britain may have clocked up more than 200,000 miles — but it will have been driven on superior roads and have had two plating tests — so it will be in relatively good mechanical condition when compared with its Irish equivalent.
It may well pay an Irish operator to buy such a vehicle in the UK and pay the excise duty in Ireland. The older the vehicle he buys, the lower will be the proportion of Irish excise duty to be paid.