Toll-free Tunnel
12th January 1985
Page 5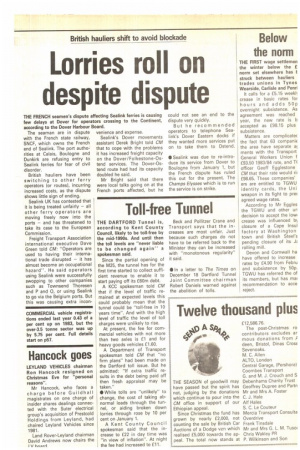 Page 5, 12th January 1985 —
Toll-free Tunnel
Close
THE DARTFORD Tunnel is, according to Kent County Council, likely to be toll-free by the mid-1990s. And until then the toll levels are "never liable to be changed again" a spokesman said.
Since the partial opening of the M25, the tunnel has for the first time started to collect sufficient revenue to enable it to start paying off its £60m debt.
A KCC spokesman told CM that if the level of traffic remained at expected levels this could probably mean that the tunnel could be "toll-free in 10 years time". And with the high level of traffic the level of toll charges were unlikely to rise.
At present, the fee for commercial vehicles with not more than two axles is £1 and for heavy goods vehicles £1.60.
A Department of Transport spokesman told CM that "no firm plans" had been made on the Dartford toll issue. But he admitted: "If extra traffic results in the debt being paid off then fresh appraisal may be taken."
• While tolls are "unlikely" to change, the cost of taking abnormal loads through the tunnel, or aiding broken down lorries through rose by 10 per cent on January 1.
A Kent County Council spokesman said that the increase to £22 in day time was "in view of inflation". At night the fee had increased to £11. Beck and Pollitzer Crane and Transport says that the increases are most unfair. Just because such charges do not have to be referred back to the Minister they can be increased with "monotonous regularity" it said.
• In a letter to The Times on December 18 Dartford Tunnel Joint Committee chairman Robert Daniels warned against the abolition of tolls.