Below the norm
12th January 1985
Page 5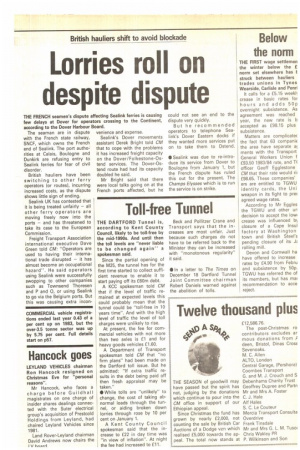 Page 5, 12th January 1985 —
Below the norm
Close
THE FIRST wage settlemen the winter below the £ norm set elsewhere has t struck between hauliers trades unions in Tynes Wearside, Carlisle and Penni It calls for a £5.15 weekh crease in basic rates for hours and adds 50p overnight subsistence. As agreement was reached year, the new rate is b accepted as £98.15 plus subsistence.
Matters are complicatec the fact that 63 compani€ the area have separate al ments with the Transport General Workers Union f £93.50 1983/84 rate, and T( officer Geoff Egglestone CM that their rate would ri £98.65. These companies' ers are entitled to TGWU identity cards, the Uni weapon in its fight to pre: agreed wage rates.
According to Mr Eggles the TGWU and other un decision to accept the low crease was influenced ID) closure of a Cape Insul factory at Washington town and British Steel's pending closure of its Ji rolling mill.
Devon and Cornwall ha have offered to increase rates by £4.90 from Febru and subsistence by 50p. TGWU has referred the of its members, but has mai recommendation to acce reject.