Sympathy for the dealer
12th January 1985
Page 4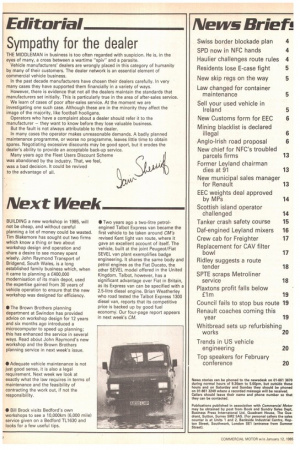 Page 4, 12th January 1985 —
Sympathy for the dealer
Close
THE MIDDLEMAN in business is too often regarded with suspicion. He is, in the eyes of many, a cross between a wartime "spiv" and a parasite.
Vehicle manufacturers' dealers are wrongly placed in this category of humanity by many of their customers. The dealer network is an essential element of commercial vehicle business.
In the past decade manufacturers have chosen their dealers carefully. In very many cases they have supported them financially in a variety of ways.
However, there is evidence that not all the dealers maintain the standards that manufacturers set initially. This is particularly true in the area of after-sales service.
We learn of cases of poor after-sales service. At the moment we are investigating one such case. Although these are in the minority they affect the image of the majority, like football hooligans.
Operators who have a complaint about a dealer should refer it to the manufacturer — they want to know before they lose valuable business. But the fault is not always attributable to the dealer.
In many cases the operator makes unreasonable demands. A badly planned maintenance programme, or worse no programme, leaves little time to obtain spares. Negotiating excessive discounts may be good sport, but it erodes the dealer's ability to provide an acceptable back-up service.
Many years ago the Fleet Users Discount Scheme was abandoned by the industry. That, we feel, was a bad decision. It could be revived to the advantage of all.