Next Week
12th January 1985
Page 4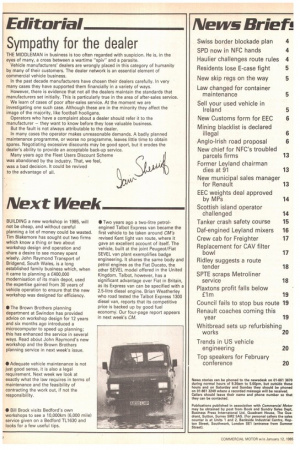 Page 4, 12th January 1985 —
Next Week
Close
BUILDING a new workshop in 1985, will not be cheap, and without careful planning a lot of money could be wasted. Tim Blakemore has sought out two firms which know a thing or two about workshop design and operation and share a desire to see money spent wisely. John Raymond Transport of Bridgend, South Wales, is a long established family business which, when it came to planning a £400,000 modernisation of its main depot, used the expertise gained from 30 years of vehicle operation to ensure that the new workshop was designed for efficiency.
• The Brown Brothers planning department at Swindon has provided advice on workshop design for 12 years and six months ago introduced a microcomputer to speed up planning; this has enhanced the service in several ways. Read about John Raymond's new workshop and the Brown Brothers planning service in next week's issue.
• Adequate vehicle maintenance is not just good sense, it is also a legal requirement. Next week we look at exactly what the law requires in terms of maintenance and the feasibility of contracting the work out, if not the responsibility.
• Bill Brock visits Bedford's own workshops to see a 10,000km (6,000 mile) service given on a Bedford TL1630 and looks for a few useful tips. • Two years ago a two-litre petrolengined Talbot Express van became the first vehicle to be taken around CM's revised Kent light van route, where it gave an excellent account of itself. The vehicle, built at the joint Peugeot/Fiat SEVEL van plant exemplifies badge engineering. It shares the same body and petrol engines as the Fiat Ducat°, the other SEVEL model offered in the United Kingdom. Talbot, however, has a significant advantage over Fiat in Britain, as its Express van can be specified with a 2.5-litre diesel engine. Brian Weatherley who road tested the Talbot Express 1300 diesel van, reports that its competitive price is backed up by good fuel economy. Our four-page report appears in next week's CM.