America's view
12th January 1985
Page 22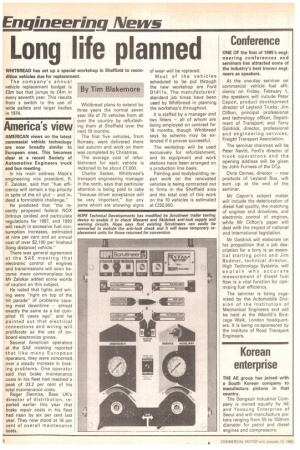 Page 22, 12th January 1985 —
America's view
Close
AMERICAN views on the latest commecial vehicle technology are now broadly similar to European ones. This becomes clear at a recent Society of Automotive Engineers truck and bus meeting.
In his main address Mack's engineering vice president, R. F. Zalokar, said that "fuel efficiency will remain a top priority in spite of the oil glut — and indeed a formidable challenge."
He predicted that "the recently proposed federal NOX (nitrous oxides) and particulate regulations for 1987, and 1990 will result in excessive fuel consumption increases, estimated at nine per cent and an annual cost of over $2,100 per linehaul [long distance] vehicle," There was general agreement at the SAE meeting that electronic control of engines and transmissions will soon become more commonplace but Mr Zalokar added some words of caution on this subject.
He noted that lights and wiring were "right on top of the hit parade" of problems causing most downtime — almost exactly the same as a list compiled 15 years ago" and he pointed out that electrical connections and wiring will proliferate as the use of onboard electronics grows.
Several American operators at the SAE meeting reported that like many European operators, they were concerned over a steady increase in braking problems. One operator said that brake maintenance costs in his fleet had reached a peak of 33.2 per cent of his total maintenance costs.
Roger Denniss, Bass UK's director of distribution, reported earlier this year that brake repair costs in his fleet had risen by six per cent last year. They now stood at 16 per cent of overall maintenance costs.