Mackie's triumph
12th January 1985
Page 21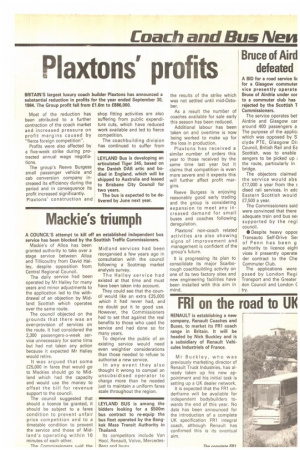 Page 21, 12th January 1985 —
Mackie's triumph
Close
A COUNCIL'S attempt to kill off an established independent bus service has been blocked by the Scottish Traffic Commissioners.
Mackie's of Alloa has been granted authority to take over a stage service between Alloa and Tillicoultry from David Halley, despite opposition from Central Regional Council.
The daily service had been operated by Mr Halley for many years and minor adjustments to the application led to the withdrawal of an objection by Midland Scottish which operates over the same route.
The council objected on the grounds that there was an over-provision of services on the route. It had considered the 2,300 passengers-a-week service unnecessary for some time but had not taken any action because it expected Mr Halley would retire.
It was argued that some £25,000 in fares that would go to Mackies should go to Midland which had the capacity and would use the money to offset the bill for revenue support to the council.
The council suggested that should a licence be granted, it should be subject to a fares condition to prevent unfair price competition and to a timetable condition to prevent the service and those of Midland's operating within 10 minutes of each other.
Thp C.nmmiccinnprs '.Aid thp Midland services had been reorganised a few years ago in consultation with the council following a Scotmap market analysis survey.
The Halley service had existed at that time and must have been taken into account.
They could see that the council would like an extra £25,000 which it had never had, and no doubt put it to good use. However, the Commissioners had to set that against the real benefits to those who used the service and had done so for many years.
To deprive the public of an existing service would need even weightier considerations than those needed to refuse to authorise a new service.
In any event they also thought it wrong to compel an unsubsidised operator to charge more than he needed just to maintain a uniform fares scale throughout the region.