'Go out to tender'
12th January 1985
Page 20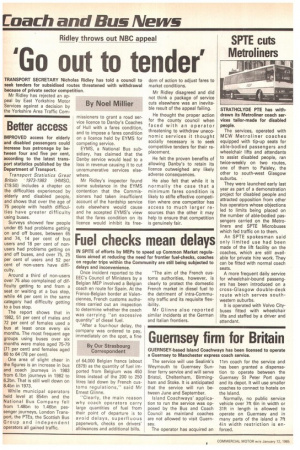 Page 20, 12th January 1985 —
'Go out to tender'
Close
TRANSPORT SECRETARY Nicholas Ridley has told a council to seek tenders for subsidised routes threatened with withdrawal because of private sector competition.
Mr Ridley has rejected an appeal by East Yorkshire Motor Services against a decision by the Yorkshire Area Traffic Corn missioners to grant a road service licence to Danby's Coaches of Hull with a fares condition, and to impose a fares condition on a licence held by EYMS for competing service.
EYMS, a National Bus subsidiary, has claimed that the Danby service would lead to a loss in revenue causing it to cut unremunerative services elsewhere.
Mr Ridley's inspector found some substance in the EYMS contention that the Commissioners had taken insufficient account of the hardship service cuts elsewhere would cause and he accepted EYMS's view that the fares condition on its licence would inhibit its free Mr Ridley disagreed and did not think a package of service cuts elsewhere was an inevitable result of the appeal failing. dom of action to adjust fares to market conditions.
He thought the proper action for the county council when faced with an operator threatening to withdraw uneconomic services it thought socially necessary is to seek competitive tenders for their replacement.
He felt the proven benefits of allowing Danby's to retain its licence outweighed any likely adverse consequences.
He also felt that while it is normally the case that a minimum fares condition is likely to stifle effective competition where one competitor has access to much larger resources than the other it may help to ensure that competition is genuinely fair.