Obituaries
12th January 1985
Page 15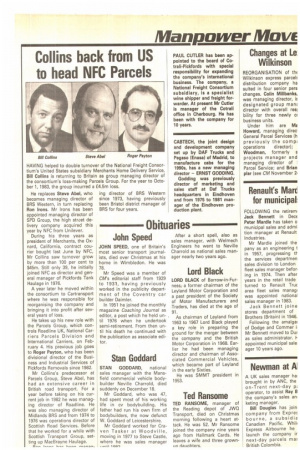 Page 15, 12th January 1985 —
Obituaries
Close
John Speed
JOHN SPEED, one of Britain's most senior transport journalists, died over Christmas at his home in Wimbledon. He was 78.
Mr Speed was a member of CM's editorial staff from 1929 to 1933, having previously worked in the publicity department of the Coventry car builder Daimler.
In 1951 he joined the monthly magazine Coaching Journal as editor, a post which he held until 1976 when he undertook semi-retirement. From then until his death he continued with the publication as associate editor.
Stan Goddard
STAN GODDARD, national sales manager with the Mansfield commercial vehicle bodybuilder Neville Charrold, died suddenly on December 18.
Mr Goddard, who was 47, had spent most of his working life in cv bodybuilding. His father had run his own firm of bodybuilders, the now defunct W. Goddard of Leicestershire.
Mr Goddard worked for Craven Tasker at Woodville, moving in 1977 to Steve Castle, where he was sales manager
et+ ; I 100')
After a short spell, also as sales manager, with Welmech Engineers he went to Neville Charrold as national sales manager nearly two years ago.
Lord Black
LORD BLACK of Barrow-in-Furness, a former chairman of the Leyland Motor Corporation and a past president of the Society of Motor Manufacturers and Traders, has died at the age of 91.
As chairman of Leyland from 1963 to 1967 Lord Black played a key role in preparing the ground for the merger between the company and the British Motor Corporation in 1968. Earlier he had been managing director and chairman of Associated Commercial Vehicles, which became part of Leyland in the early Sixties.
He was SMMT president in 1953.
Ted Ransome
TED RANSOME, manager of the Reading depot of JWQ Transport, died on Christmas morning following a heart attack. He was 52. Mr Ransome joined the company nine years ago from Hallmark Cards. He leaves a wife and three grown
tin datmhters.