ONE HEARS
12th February 1929
Page 3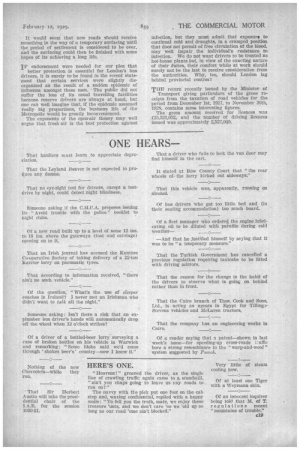 Page 3, 12th February 1929 —
ONE HEARS
Close
That hauliers must learn to appreciate depreciation.
That the Leyland Beaver is not expected to produce any damns.
That no eye-sight test for drivers, except a testdrive by night, could detect night blindness.
Someone asking if the C.M.I.T.A. proposes issuing its " Avoid trouble with the police" booklet to night clubs.
Of a new road built up to a level of some 12 ins. to 18 ins, above the gateways (foot and carriage) opening on to it, That an Irish journal has accused the Kantere Co-operative Society of taking delivery of a 22-ton Karrier lorry on pneumatic tyres.
That according to information received, "there ain't no such vehicle."
Of the question, "What's the use of sleeper coaches in Ireland? I never met an Irishman who didn't want to talk all the night."
someone asking: Isn't there a risk that an explumber bus driver's hands will automatically drop off the wheel when 12 o'clock strikes?
Of a driver of a bottled-beer lorry surveying a case of broken bottles on his vehicle in Warwick and remarking: "Some bloke said we'd come through 'shakes beer's' country—now I know it." That a driver who fails to lock the van door may find himself in the cart.
It stated at Bow County Court that "the rear wheels ofthe lorry kicked out sideways."
That this vehicle was, apparently, running on alcohol.
Of bus drivers who get too little bed and (in their seating accommodation) too much board.
Of a fleet manager who ordered the engine lubricating oil to be diluted with paraffin during cold weather
-And that he justified himself by saying that it was to be "a temporary measure."
That the Turkish Government has cancelled a -previous regulation requiring taxicabs to be fitted with driving mirrors.
That the reason for the change is the habit of the drivers to observe what is going on behind rather than in front.
That theCairo branch of Thos. Cook and Sons, Ltd., is acting as agents in Egypt for Tilling-IStevens vehicles and McLaren tractors,
That the company has an engineering works in Cairo.
Of a reader saying that a patent—shown in last week's issue—for speeding-up cross-roads t:'affic bore a strong resemblance to the " warp-and-woof" system suggested by Punch.